The current job board experience hurts both job seekers and employers. New HR tech is necessary to streamline the process, align candidate experience with proper positions, and make the entire process more efficient for employers and potential employees.
In this post, we're going to look at Google for Jobs current status as well as how new HR tech and tools can improve the experience for everyone involved.
Current State of Google for Jobs Candidate Experience
Google for Jobs was introduced in 2017 to help job seekers find positions more closely matching their preferences through the use of advanced Google search tools, and provide a strong candidate experience while doing it.
As Nick Zakrasek, co-founder and product lead at Google for Jobs, stated, "so many people start their job search on Google, it's important that we leverage our core capabilities around search & AI to help with this critical user journey."
73 percent of job seekers do in fact start their job search on Google, therefore Google for Jobs has a massive potential to be the one-stop shop for job seekers.
However, reality shows a different kind of experience for candidates and employers – a frustrating, circuitous, multi-step job board experience awaits candidates even after clicking on a Google for Jobs listing. This negative candidate experience often prevents job seekers from applying for jobs in which they are interested and likely reflects poorly on Google's brand.
If neither employers nor candidates are realizing their career goals, the only value Google for Jobs is serving as an ad platform for third-party job boards to generate more clicks and resumes. And that is certainly not what Google intended when it introduced Google for Jobs.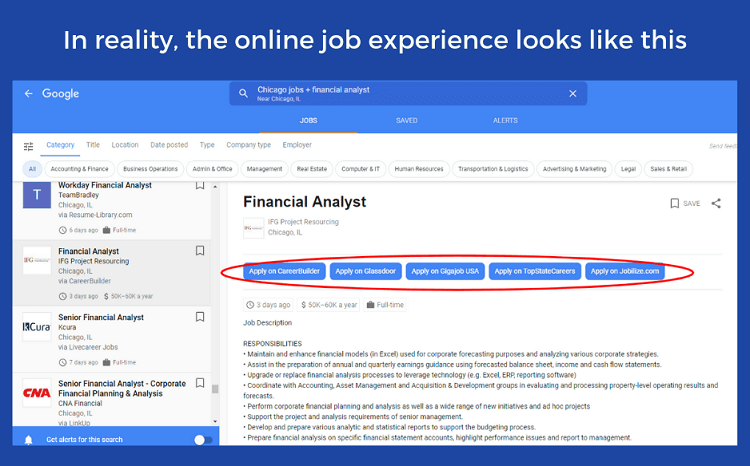 Candidates and Employers Are Hurt by the Current Broken Job Board Experience
The end result of the current Google for Jobs job board strategy is that candidates drop off before applying to jobs for which they are qualified. This is mainly because of the outdated HR tech aka the roundabout, multi-layered process Google for Jobs has set up.
In fact, according to a recent study, 60 percent of online applications are abandoned before reaching the career site.
For employers, a frustrating candidate-apply process reflects poorly on their brand. And this is a perception employers can ill afford in the current candidate-driven job market.
When job boards and other third parties collect candidate information and then bombard them with job descriptions from other employers, this further compromises the candidate relationship. Oftentimes, candidates do not end up on the employers' career site, thereby missing key information about employers' mission and culture.
This creates a misalignment between the candidate and the job. These issues ultimately increase recruiting time and cost for employers.
Recent Audits of Job Listings Expose Abuse of Google for Jobs
Jobiak, an AI-based job posting and distribution platform, looked more closely at job postings over time and audited the average number of steps required for a candidate to get to the job application. We also looked at the percentage of third parties requiring email and resumes encountered by candidates along the way.
Through this research, we confirmed the bad news for job seekers and employers.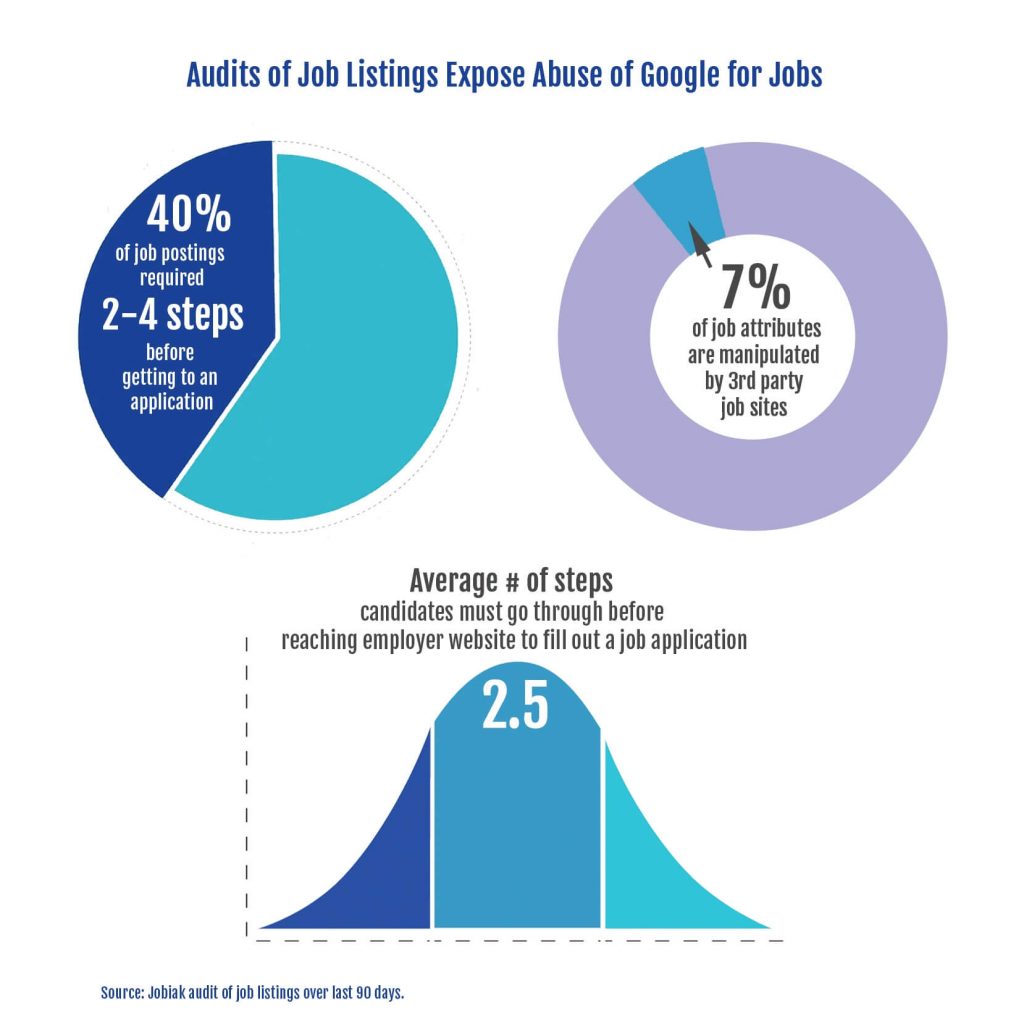 The audits conducted by Jobiak found the following:
AUDIT 1: Jobiak reviewed 2.5 million job postings in 500 cities and found:
Candidates must go through an average of 2.5+ steps before getting to the employer's web site to fill out the actual job application. At each step, candidates are asked to fill out personal information – usually the same information in each step – and upload a resume.
10% of job listings required 3 – 4 steps before getting to the application.
AUDIT 2: Jobiak reviewed 2,000 job listings in multiple cities over 90 days, and found:
Numerous, concrete examples of job boards posting the same job multiple times and otherwise manipulating job postings in order to improve their click rates with little regard to the confusion it creates. Examples include:
altering the title of the job but leaving the same employer and job description
altering the job description but leaving the same title and employer

7% of job attributes are manipulated by 3rd party job sites.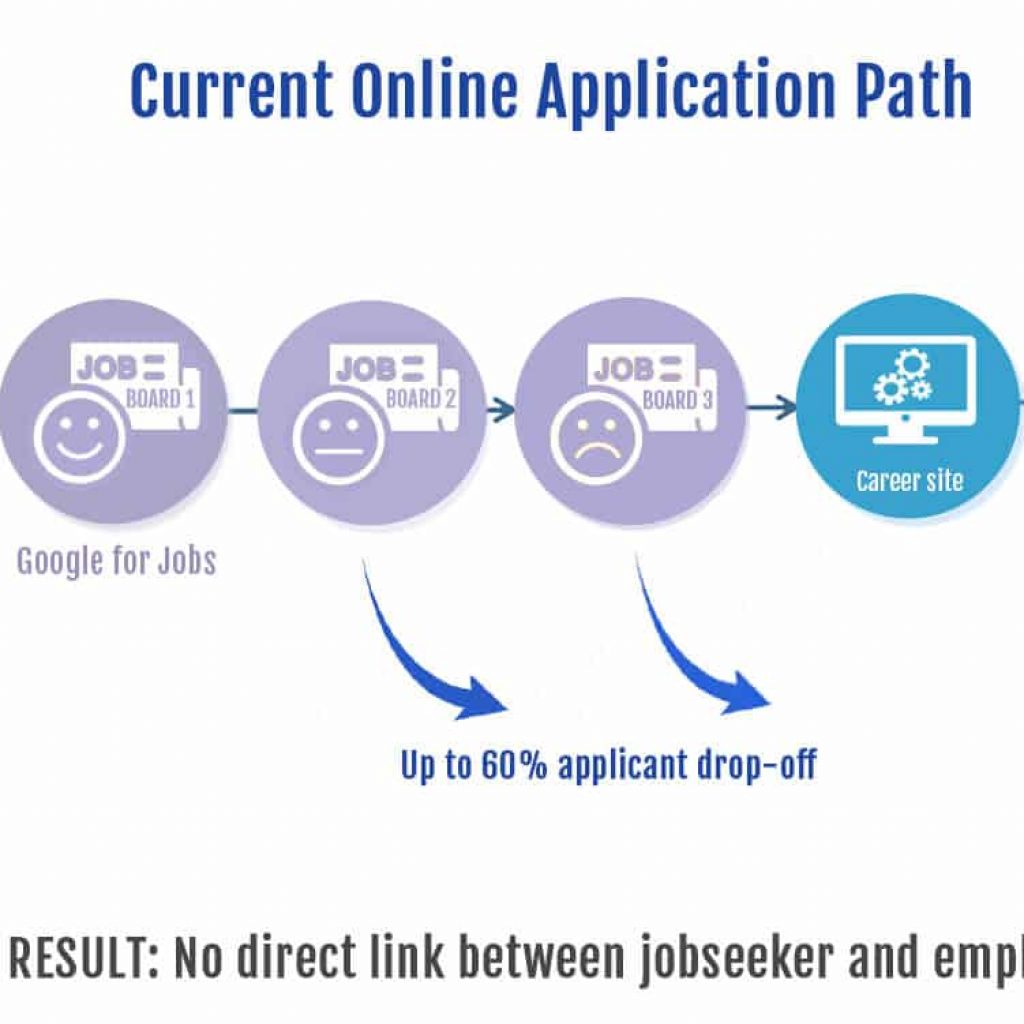 The Good News: Google Can Fix the Problem

When surveyed, 64% of candidates said they want to apply directly on the employer's career site. Given this significant discrepancy between what job seekers want and what they are experiencing, it's no wonder that the process is broken.
What can Google do to address the Google for Jobs candidate experience and job poster experience? In order for candidates and employers fully realize the power of Google for Jobs, Google must take the following steps to reduce friction in the application process:
Not allow multiple interstitial landing pages to disrupt the apply process; limit each job to posting once.
Give preference to direct employers instead of job boards in rankings.
Update the job posting and HR tech that they're using.
Clarify upfront the paths and options that candidates can take.
Eliminate duplicates created by altering job titles, descriptions, locations, and employers.
Finally, when organizations break these rules, Google should levy harsh penalties to discourage others from trying the same unsavory tactics.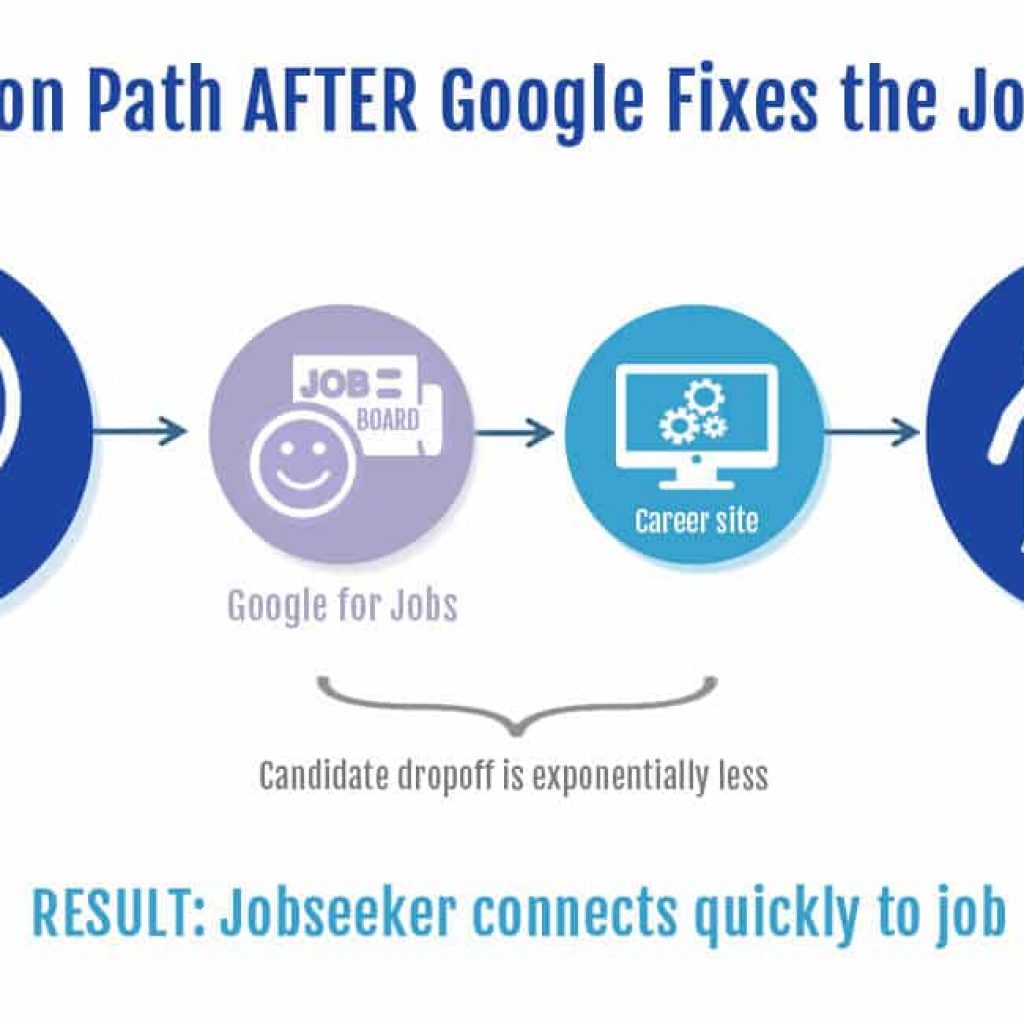 Overall, Google can completely rewrite the rules for job search with Google for Jobs.
As of now, employer career sites and job postings are essentially invisible to job seekers searching in Google as Google for Jobs and job boards own the first several pages of results.
Creating a direct link between job seekers and employers via Google for Jobs will solve the problems discussed here and massively improve the candidate experience.
Help Candidates and Employers Realize the Power of Google for Jobs
If Google takes these recommended steps and implements new HR tech to improve the job posting process, the Google for Jobs candidate experience will improve exponentially. And when candidates have greater success finding a job, Google for Jobs will secure its place as the go-to spot for job searches.
On the employers' side, a better job seek-and-apply experience ensures a funnel of qualified candidates and greater productivity for recruiters. All of which improves the bottom line of employers.
If you are an influencer or leader in the talent acquisition industry, you can bring about change by advocating for streamlined candidate experience and implementation of new job & HR tech. Start by sharing content like this and speaking up about these issues as often as possible and contact us today to get started.