Recruitment SEO should not be difficult. Yet, how to get your job postings to rank on Google is a mystery to many. For starters, you have to know how to write a strong job description.  Even a well-written description is not enough to ensure that top talent finds you. Savvy talent acquisition pros know that optimizing the keywords in the job posting is essential. Even then, your jobs may not be showing up on the first pages of Google search results.
Wait, there's more?
Overlooked Ways to Get your Job Postings to Rank on Google
Posting your jobs to Google for Jobs should be the sure-fire way to get your jobs to show up on Google searches. Right?
But not so fast.
A number of things need to happen in order for your job postings to rank high on Google:
For starters, you'll need to know how to post your jobs to Google for Jobs using the structured data that Google requires
Be sure to use optimization techniques to improve the SEO of your job advertisements with Google for Jobs ranking signals
Pay attention to how you enter the basic code or html when posting the jobs
In other words, the devil's in the details. And in the case of Google for Jobs, it's all about getting the code right.
Common Mistakes to Avoid When Posting to Google for Jobs
Today we're going to share our behind-the-scene tips help you avoid costly mistakes and increase your chances of getting indexed on Google.
In graphics below, we list four common areas where developers make mistakes when adding job posting structured data to Google for Jobs postings. Specific ways to improve the code is also listed. Most importantly, these are based on proven ways that Jobiak corrects the mistakes, optimizes your job posting, and earns you a top spot on Google for Jobs listings.
For each area/mistake below we list:
What the content looks like on the actual job listing
An example of Google for Jobs code mistakes made by developers
How to correct the mistake*
*Note: that when you use Jobiak, these fixes that optimize your job postings are done automatically by our machine learning algorithms.
Location of Job Opening
You'd be surprised how many times the way the location for the job opening is listed affects your Google ranking. A 'clean' location will increase your chances of ranking higher in Google. We've looked at analytics and determined what code developers need to use in order for job posts to be indexed by Google.
On the Jobiak platform, our machine learning adheres to Google guidelines and Google schema, but we also include the street address and postal code. However, this is something most other domains are not doing and their ranking is adversely affected.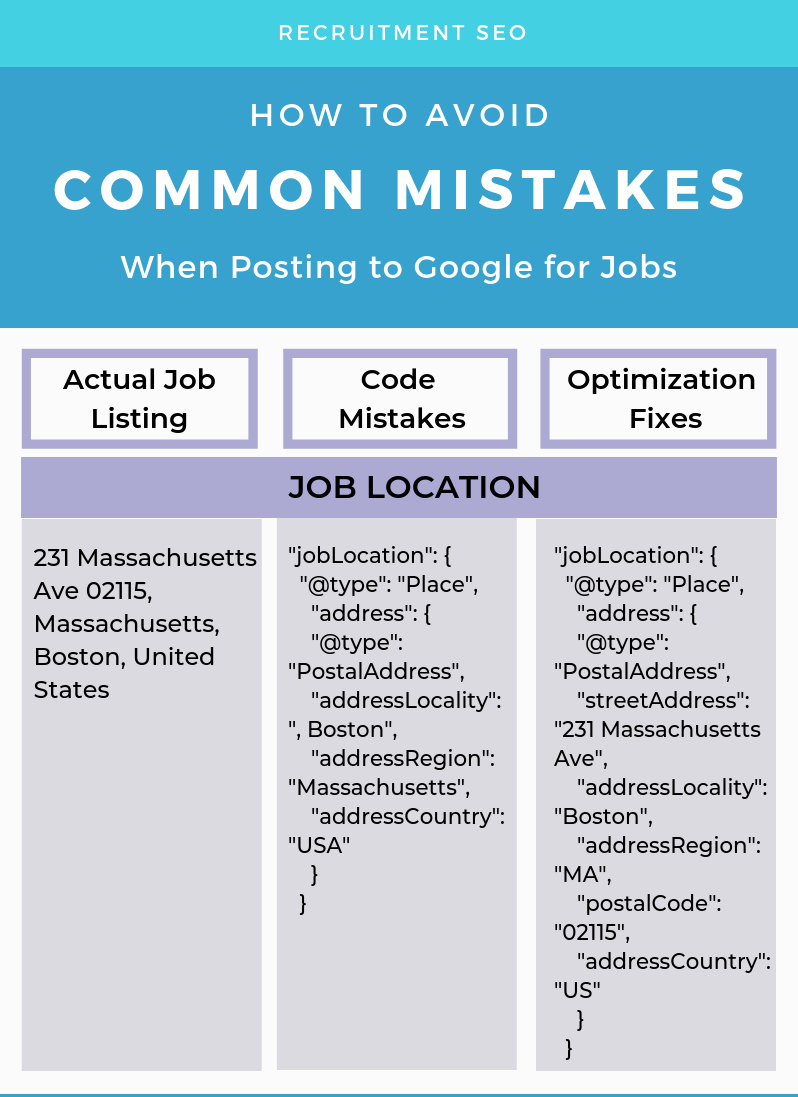 Company Name
Believe it or not, sometimes when companies enlist the help of a 3rd party vendor, they mess up the name of the company. Jobiak's machine learning capabilities scan the address of the posting and ensure that the precise company name is used in the employment advertisement.
When you use Jobiak to post jobs, our machine learning algorithms provide an exact match of the company name, while also comparing the name in the Google knowledge panel, so that Google recognizes the company. We also provide "Same As" (company domain URL) and "Logo" (company logo) where most other domains do not do this.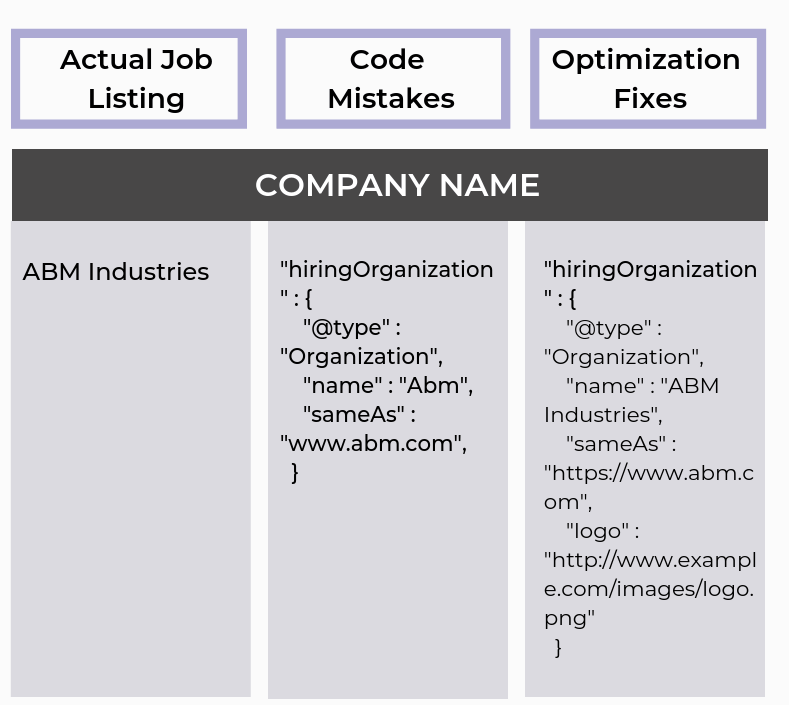 Salary Information
Should you disclose the salary range in your job advertisement? This question is front and center in an ongoing debate. What if we told you that including salary information on your job posting would improve your SEO rankings?
Google is very specific in their expectations of how they want salary information formatted, as indicated on their Content Guidelines page for developers.
To be indexed properly by Google, they state you should publish the actual base salary for the job, as provided by the employer (not an estimate). But how you format this information impacts how your job posting ranks on Google.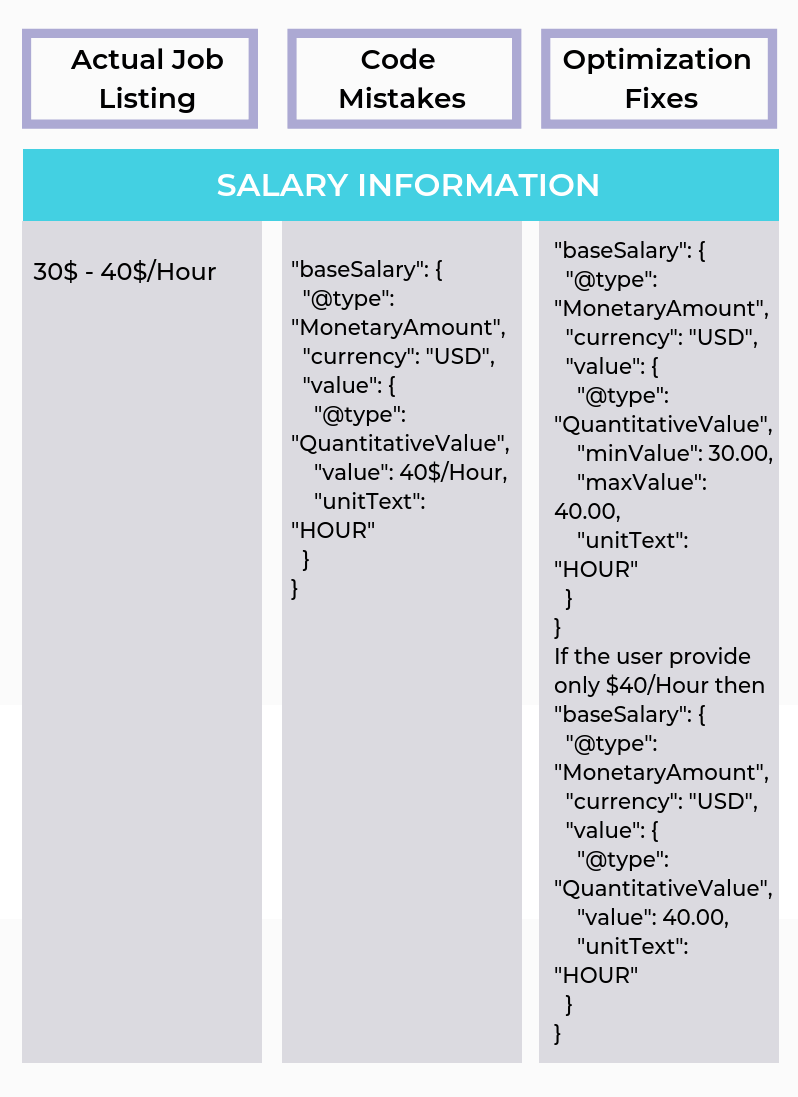 A common mistake made by job posters or developers with regards to salary is they provide the salary range in the actual base salary format and using the special characters like "$" and "/" in the value.  Note that with the Jobiak platform this format is done automatically for all your job postings, eliminating the need to worry about code.
If you need more convincing to post salaries on job advertisements, we encourage you to read what experts say about pay transparency.
Occupation Category
Yet another, 'isn't it obvious?' component of your job listing is the occupational category. When we scan job postings on Google for Jobs, we consistently see 80 percent are missing the occupation category.
After looking at 100,000 jobs and how they perform on Google, we have discovered that including the occupation category in the following format dramatically improves your ranking.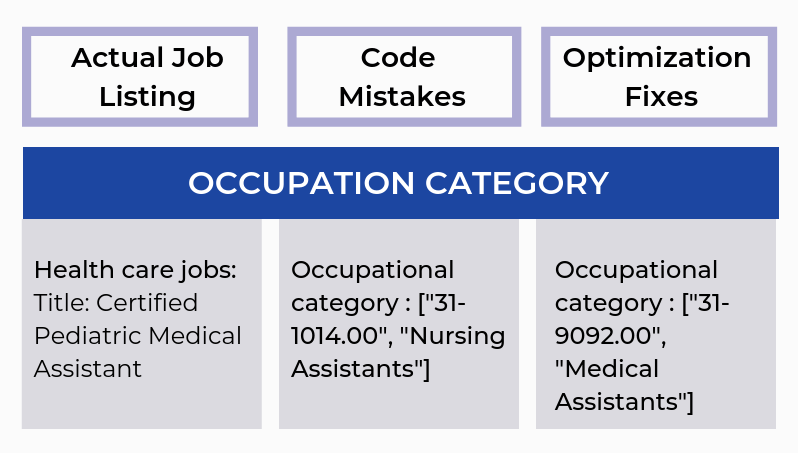 Jobiak provides the most relevant occupational category for the jobs based on the job content, i.e, Job title and Job description, so your chances of being found by qualified candidates are significantly increased.
---
---
Easiest Way to Get your Job Post to Rank on Google

We get that talent acquisition teams are spread thin and finding the time to optimize individual job posts is difficult and in many cases just plain not realistic.
The Jobiak platform optimizes ALL aspects of ALL your job posts for you.
Based on learnings from millions of monitored postings, Jobiak delivers high ranking job posts. The result is maximum visibility on Google. Even better, the positive outcome is more qualified candidates in your pipeline and more time to focus on turning them into employees.