You want to fill the job openings at your organization with the most qualified candidates. Thus, you need to create job advertisements that get attention.
We know that writing job advertisements that stand out isn't easy – it requires creativity and resourcefulness to make your job ad stick out from the pack. It's one thing to have clear and detailed job descriptions to start with, but how to do you turn them into engaging job ads?
We searched the web to find real-life examples of the best job advertisements. In fact, these are so good, we've pointed out the ideas from each job ad that you can use for your own.
Let's get started!
How Can You Get a Candidate's Attention for Your Job Advertisement?
It's always best to start with the basics.
A good job advertisement contains a few essential elements: a job title, a summary of the job & how it fits into the organization, specific job responsibilities, education requirements, technical and related experience, benefits, and, finally, an explanation of how and where to apply.
If you really want to increase your chance of catching the eye of the most qualified candidates, you've got to think like a job seeker. And job seekers search for their dream job by using keywords that most describe their desired position, plus the location where they want to work – so make sure that you're starting with the right job title.
Next, use engaging language and innovative tactics to sell the job to high quality candidates. Consider the following best practices:
Tell your company story in a way that shows how it brings value to customers.
Describe your unique company culture with specific examples.
Include industry-specific skills, tools, and jargon (for example, a programming language or software platform that is part of the job).
Include a salary range – pay transparency is becoming the norm, and if you choose not to post a salary range, your candidates can find pay information online anyway.
Mention location – almost all job seekers use a location keyword in their job search.
Highlight the big benefits right at the top of the ad.
Consider using testimonials from current staff in your ad or linking to a video about your company.
Make the job ad easy to read and understand by using a clear organizational style.
Optimize Your Job Advertisements for Google
In addition to the above best practices, it's especially important to optimize your job advertisement for Google since 73% of job seekers start their job search on Google.
Check out our piece on how to post a job on Google for Jobs for free. Your job listing must be indexable and follow good SEO practices, otherwise Google won't find it. Use these tactics to optimize your job ad:
Use keyword-rich job titles
Consider putting the location of the position in the title
Write in bulleted lists rather than long copy
Using Google for Jobs can substantially increase the number of searchers who see your job ads, but only if Google's crawler can find them. Optimization tactics specific to Google for Jobs are as follows, based on the Google for Jobs Posting Guidelines. Make sure to include these elements in your job advertisement:
Date posted
Job description
Hiring organization
Job location
Job title
Date when job post will expire
Google also recommends including the following in your job listing:
Applicant location requirements
Base salary for the job
Type of employment – full time, part time, remote, etc.
Finally, be sure to add job posting structured data to your web page where your job is listed. Note that the structured data requires that you have a working knowledge of HTML and the JSON file format. You'll also need a Google Index API account, and the expertise to work with the Google Index API. If you don't have the expertise in-house to implement these requirements for Google for Jobs, you can use a third-party posting platform like Jobiak to implement this properly and to ensure your jobs are optimized. Jobiak's Machine Learning platform optimizes the tagging based on learnings from millions of monitored postings to deliver high job ranking job posts.
Real-world Job Advertisement Examples
Let's look at three well-crafted job advertisement examples that utilize the tactics listed above.
1. Tech Job Advertisement Example: Tech Lead, Application Software Developer
What to Steal: This job advertisement example contains a very comprehensive description of the position, how it fits into the overall team, and the background requirements.
It explains up front the "what's in it for me" ("This position provides experienced technologists an opportunity to leverage their deep and diverse design and development skills…"), and highlights a thorough list of day-to-day responsibilities in the "What you will do" section.
Finally, it is packed with relevant keywords (note how it uses the location right in the job title) which will make it easier for qualified candidates to find.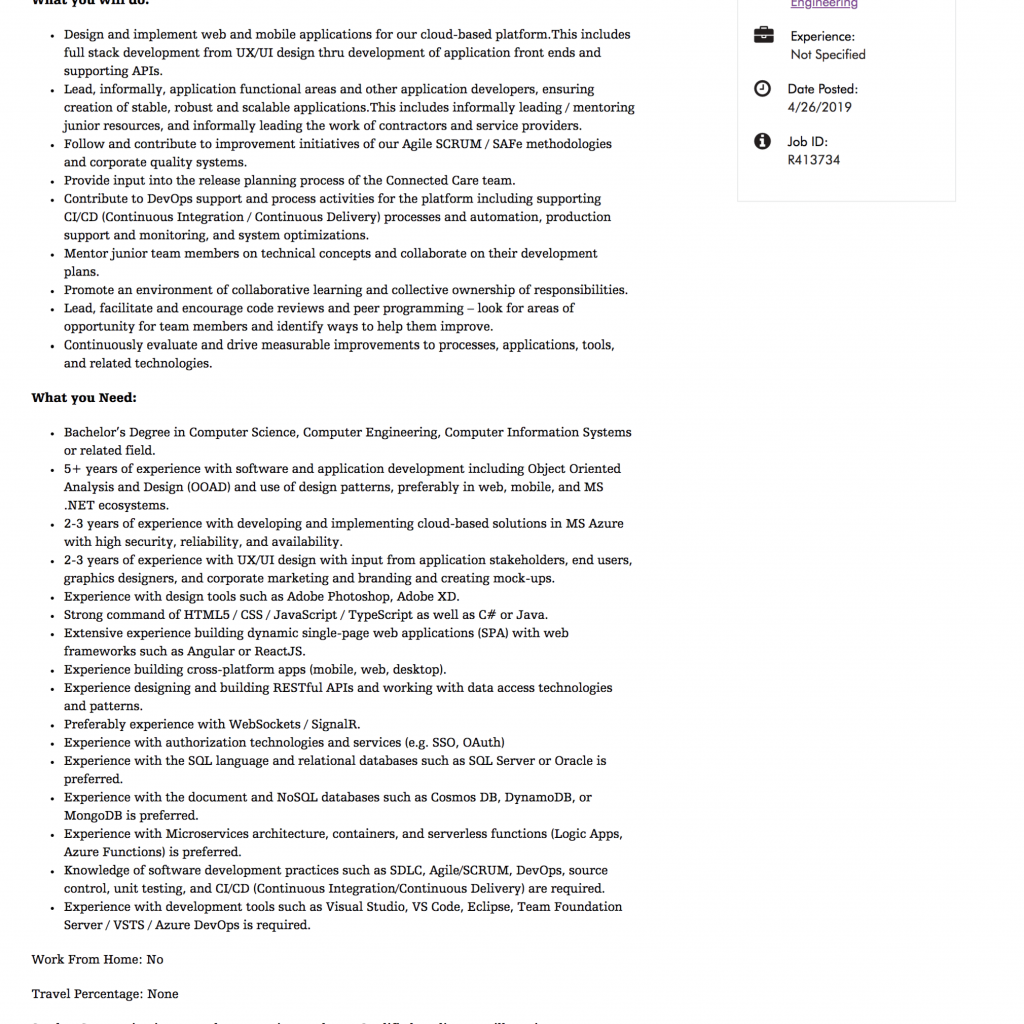 2. Healthcare Job Advertisement Example: Home Health Aide
What to Steal: This job advertisement example uses a graphical header to draw attention. It also puts salary right at the top – a tactic that has been shown to increase the number of qualified applicants.
It also states the ideal job candidate at the beginning of the description ("nursing students encouraged to apply"), highlights flexibility ("morning, evening and weekend hours available"), and clearly states the primary benefit ("you will care for only one patient"). Home Health Aides are in high-demand, and these tactics are worth stealing to make your own job ad stand out.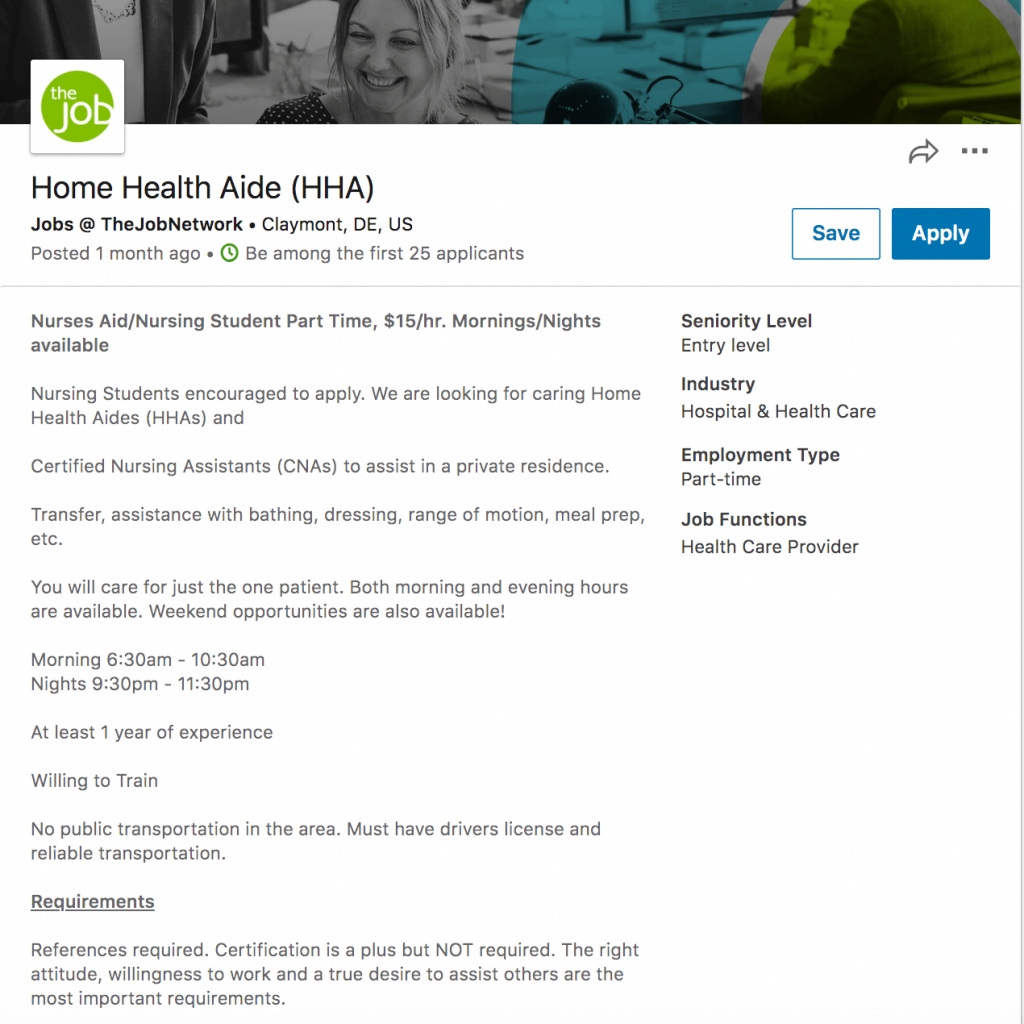 3. Sales Job Example: Custom Home Sales Representative
What to Steal: This job advertisement example uses section headings designed to draw immediate attention: "What defines success at ADT", "What's in it for you?", and "What are we looking for?" instead of more standard headings like "Job description" and "Job requirements".
It boldly calls out the traits of the applicants they want ("a go-getter and a hunter"), and also promises significant compensation for "rockstar performers". Describing the benefits of the position as "What's in it for you?" makes it sound as if the job ad is talking directly to the job seeker.
Finally, we like that the job description is written using bulleted lists – this makes it not only easier to read, but easier to get found in Google searches.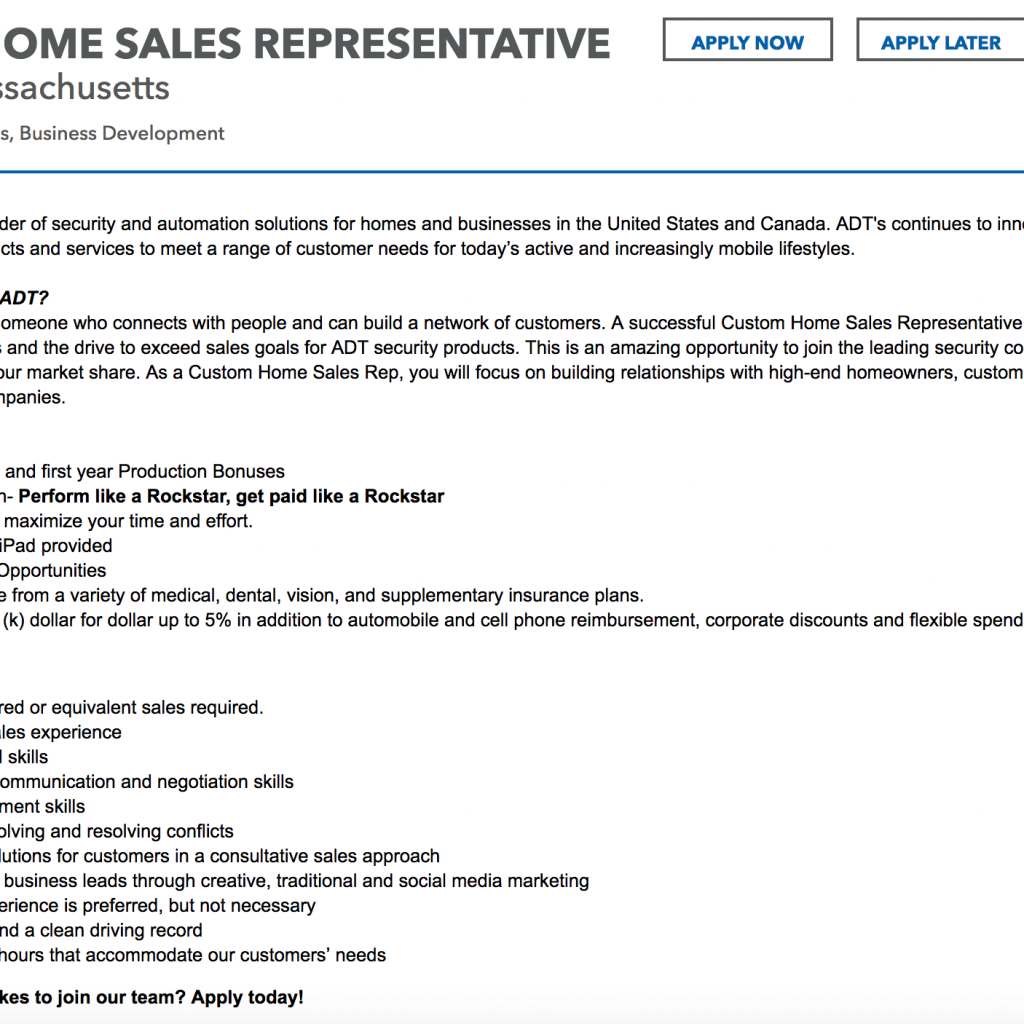 What Are You Waiting for?
Check to see if your current job postings are showing up on Google for Jobs. If not, start fine tuning your job advertisements and post to Google for Jobs for top results and contact us today.