It's no secret that Google is positioning itself to disrupt the $200B recruiting strategy industry and become a job posting conglomerate.
By leveraging its vast resources and big-data reservoirs, Google is using its enormous job taxonomy and AI recruitment search algorithms to dramatically improve candidate traffic and relevancy for recruiters.
Today, seventy-three percent of job seekers start their job search on Google, totaling over 300 million monthly searches. For the world of HR, there is no central job listing location as powerful, comprehensive, and complex as Google for Jobs. It is unprecedented.
What's more: recent developments in AI recruitment are revolutionizing job posting performance, further enabling Google to dominate the online recruitment space & recruiting strategy.
So recruiters must be racing to Google for Jobs to post their job listings and experiencing incredible results – right?
Not quite.
Google for Jobs hasn't gotten as much attention as one might think in both the SEO and HR communities. And despite having spread to global markets, it remains largely unknown how vast of a resource Google's job compilation database and SEO algorithms are.
The Mystery of Google for Jobs
How to get job postings to rank on Google is a mystery to many recruiters.
Recruiters who are rarely technical are now required to add complex HTML schema tags to their job posts, and without any technical resources on their team that knows code, this can be daunting.
For example, recruiter solutions to date have involved relying on restrictive Application Tracking Systems, expensive developer API integration tools, or even paying to post each job to an external job board that has integrated with Google for Jobs.
Each of these options are either cost-prohibitive at scale, or create a less-than-optimal candidate experience.
For many recruiters who have gone through the hurdles of figuring out how to post, they tend to not have much understanding of the complex SEO that goes on behind the scenes. Savvy talent acquisition pros know that optimizing the keywords and avoiding these mistakes in the job posting is essential.
Even then, jobs may not be showing up on the first pages of Google search results. Many HR teams just aren't seeing value and are losing faith in Google for Jobs as a serious tool for sourcing candidates, despite the plethora of untapped opportunities and insights that can be found within it.
In this article, we'll geek out on the SEO behind the scenes of Google's complex job posting taxonomy, and how intelligent and disruptive hiring technologies such as Jobiak are using the power of Artificial Intelligence to address long-standing pain-points in candidate identification, engagement, and on-boarding.
There is a small, yet rapidly growing segment of recruiters who are arming themselves with the knowledge of how keyword optimization technologies work, and as a result are experiencing a 5x in job ranking improvement and relevancy.
Behind the Scenes of Google for Jobs SEO
When it comes to understanding the SEO and job posting taxonomy behind the scenes with Google, it is critical to understand what works and what doesn't work within it.
One must know what job keywords are more effective, and to know what job titles are more common and efficient. This is a new area of job SEO that has yet to be fully understood or capitalized upon by recruiters.
So how does Google for Jobs work, exactly?
Google has built a "job family taxonomy" that aggregates similar job titles into families of jobs to build a truly useful, searchable, "universe" of jobs, organized by discipline and functional domain.
Google does an incredible job at understanding search terms & recruiting strategy, keeping track of all past searches to get smarter, and using smart NLP algorithms to decompose searches into meaningful queries and then pulling the best possible results.
Of course, applying this expertise to job search is a natural evolution. Under the covers of Google's job taxonomy is an engine that tries to understand a job through it skills.
As the chart below shows, the engine actually reads through job descriptions and tries to find the job you're looking for – rather than just look at the title (which is what most job searches do).
This results in a far better search experience.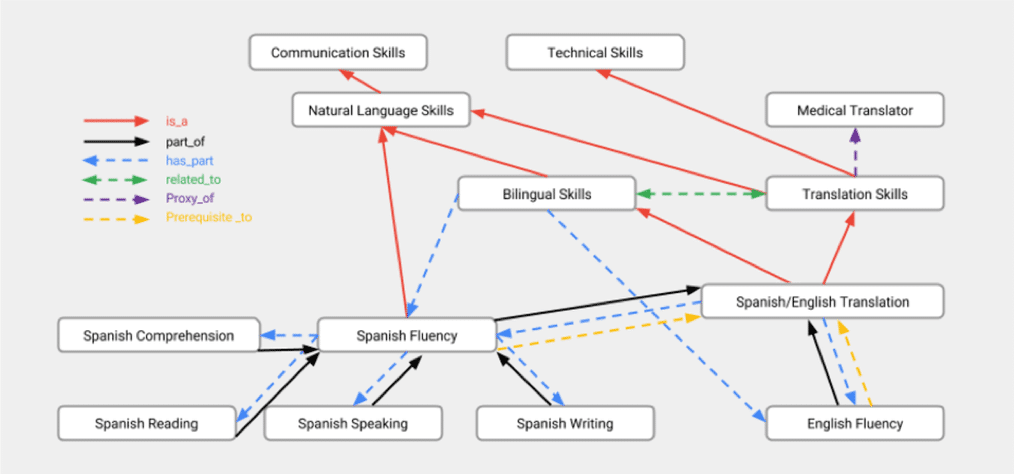 To have a job post perform well on Google for Jobs, it requires a working knowledge of HTML, JSON and proper tagging on each posting for ranking success.
Google requires the following nine tags for ranking success:
Job Identifier
Company
Title
Location
Description
Salary
Job Type
Posting Date
Valid Through
In 91% of all the job search results, Sistrix found that the integration of Google for Jobs is in the first position of the first page results, in 8% of cases in second position, and in 1% between third and seventh position.
Today, the Google for Jobs integration is ranking for approximately 9,000 keywords from the one million that Sistrix tracks on a daily basis. What is most relevant for recruiters is not the number of keywords, but the total search volume that those keywords have. For example, these keywords generally fall into one of three categories:
Job search: Many keywords are easily categorized as being related to searches for job ads. Examples: job offers, jobs Boston, medical assistant wanted, etc.
Job title: The box integration also appears in many job titles and training searches. Examples: PR assistant, forklift operator, virtual teacher.
Company name: Gillette vacancies, Proctor & Gamble careers, etc.
Once the job is posted by a recruiter, Google provides limitless filtering to present the best job postings that closely match a job seeker's keyword requirements. However, once a candidate clicks on the posting, they are forced through a confusing multi-step process with a sixty-percent abandonment rate (see below for a screenshot).
This is frustrating for both candidates and recruiters.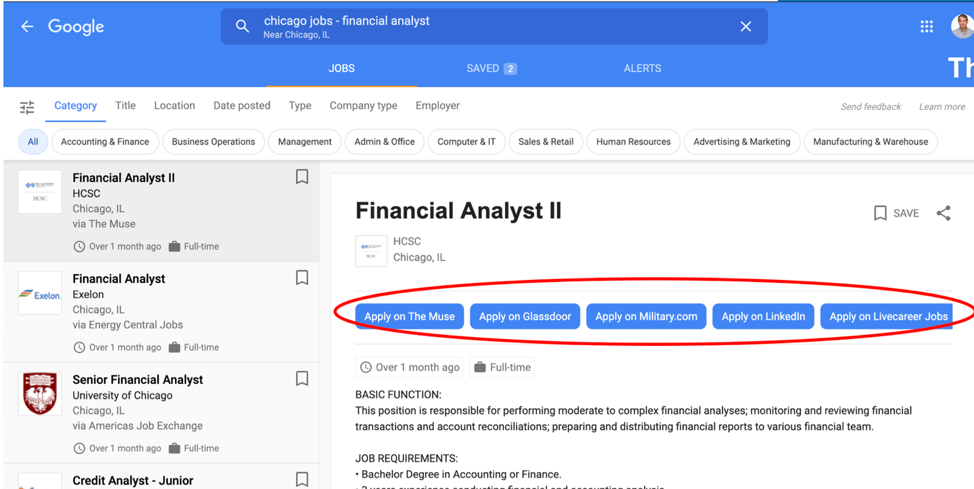 Artificial Intelligence for Keyword Optimization 
Jobiak's advanced Artificial Intelligence powered machine learning tools are designed specifically for job postings, scouring millions of job descriptions to ensure a high degree of accuracy in AI recruitment.
Our tool has been trained to automatically recognize all of the key Google tag attributes including title, job location, job description, date posted, and hiring organization.
Once identified, Jobiak automatically transforms those attributes into the required HTML and JSON schema tags.
Next, Jobiak embeds each tag within the job posting, publishes the page to the web, and then signals to Google to crawl this new job post (see below).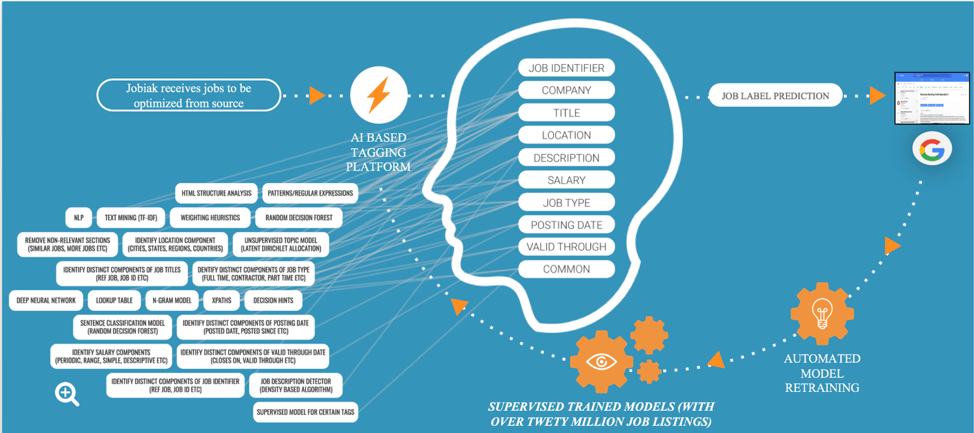 Its direct connection to Google means that customers using its platform can see their job post appear in the Google for Jobs search results within hours, if not minutes.
Despite the complex behind the scenes process, Jobiak has put a clean, user-friendly interface on the underlying technology to make recruiting strategy efficient and effective. This makes it simple for recruiters to post jobs directly to Google for Jobs, without requiring developer support or touching the underlying code.
Recruiters and talent acquisition managers using the Jobiak platform utilize a streamlined review portal to confirm that attributes are correct, or make adjustments to further optimize their listing.
When changes are made, Jobiak's translation engine kicks off and republishes the job posting without a need for further input.
Jobiak's Keyword Optimization Engine for AI Recruitment
While Jobiak's Artificial Intelligence patent backed (AI) model may appear to be a simple solution for recruiters, it is composed of 400,000 man-hours of data collection that scoured millions of job descriptions to ensure a high degree of accuracy, and is trained on a daily basis to generate high-performing keywords and make real-time SEO adjustments based on local market demand.
Jobiak's sophisticated modeling accounts for over 25 "signals" that factor into Google for Jobs rankings. It automatically optimizes job posts for the highest rank mathematically possible, using machine-generated keywords, titles and descriptions, based on analysis of both real-time information and learnings from millions of monitored postings.
Jobiak is currently the only solution in the recruiting industry with the power to fully automate and dynamically optimize listings on Google for Jobs, in real time, in as little as 48 hours.
Jobiak has conducted some of the industry's most extensive IP backed research on keyword optimization within Google for Jobs and how to improve ranking success for recruiters. It has built an enormous machine learning database and trains it to continuously analyze millions of job titles and job descriptions to identify the top keywords with the highest rankings on Google.
Jobiak starts with a database of 3.5 million job listings, 600,000 job titles, and approximately 58,000 job related competencies and keywords.
The AI platform then carefully analyzes these keywords to come up with approximately 900 keywords that always rank highest, after which it runs several million combinations of these words to generate a list of 91 keywords for every single job (with every single company) and optimizes the four best ones in each job title in its database.
This keeps your recruiting strategy updated every single day.
For example, if a candidate types in the keywords "Medical Assistant job in Tyler" into Google, Jobiak converts this to "Title job in city" and then goes through all 58,000 potential Google keywords and figures out which keywords rank highest out of all these keywords. It then looks at the top 900 keywords that tend to do well, and again filters down to the best 91 keywords out of the 900 keywords.
The chart below demonstrates the various inputs and outputs of Jobiak's keyword recommendation engine to put a recruiter's job listing in the top ranks on Google for Jobs: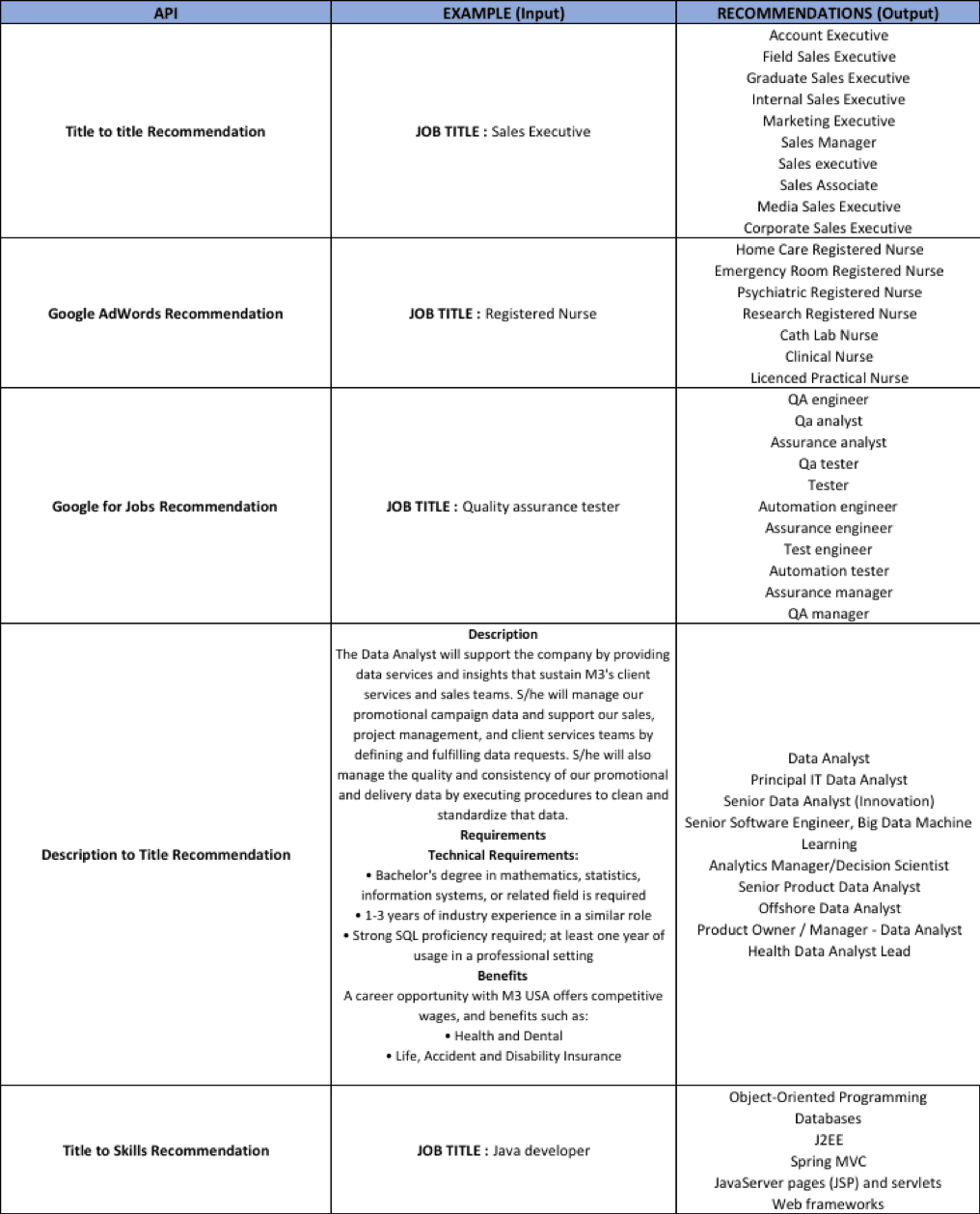 Jobiak built 30 million combinations of job titles that Google is ranking, including both job titles from companies, and keyword job titles candidates are using.
By combining of all these various candidate and recruiter driven job titles and cross-referencing all of this data, Jobiak now has a gigantic machine learning table perfect for your recruiting strategy. This AI recruitment and job platform is a powerful keyword recommendation engine!
It can be fed any job title, and it will produce the best 4 ranking job titles. It can be fed any job description without telling it the job title, and will recommend with extreme accuracy what the top 4 best ranked job titles should be.
It is even mapping skills from every job description to recommend the top skills that should be added to a job post!
Seventy-three percent of job-seekers today start their search on Google for Jobs, yet few recruiters are equipped with the sophisticated SEO techniques required to get their job postings to rank high enough in this new, and often misunderstood, channel of recruiting strategy.
Jobiak's new patent backed optimization product eliminates the technology challenges that previously limited access to Google for Jobs, and produces powerful machine-learning insights. No other recruiting technology gives employers as much predictive power to achieve high-ranking job listings that convert, generating up to 5x more applications.
CONCLUSION: Jobiak Aids in AI Recruiting Strategy
By getting educated on keyword optimization within Google for Jobs and rethinking how to leverage Google for Jobs postings, recruiters can attract better talent, less expensively, while improving their candidates' experience.
Based on learnings from millions of monitored postings, Jobiak delivers high ranking job posts for a streamlined recruiting strategy. The result is maximum visibility on Google and improved AI recruitment.
Even better, the positive outcome is more qualified candidates in the recruiting pipeline and more time to focus on turning those leads into employees.
Jobiak is the only no-code required Google for Jobs posting engine available on the market today. Simply upload your job description, review the tags we find for you, and then publish. It's just that easy, no coding required.
Try it today to improve your ROI and stay ahead of a swiftly changing recruiting industry: https://www.jobiak.ai/try-it-now/