Employers are frustrated. They want to take advantage of one of the most powerful recruiting engines that is available today.
However, the Google for jobs website and its complex schema is making it difficult to post to Google for Jobs (GFJ). By leveraging developments in predictive AI technology, Google (and employers) can take advantage of its search power, update your sourcing strategy, and dominate the recruitment market. 
Google for Jobs Needs an Automatic Tagging Solution to Improve Recruitment Marketing
Over 80% of direct employer jobs are missing on GFJ. This is due to the lack of structured data on job pages and career sites. 
Google wants to become the gatekeeper for all job postings on the web and lead the pack in recruitment marketing. To do this, however, they must gather structured jobs data directly from employers. All over the world.
That's why Google for Jobs would benefit from a technology that automates and optimizes the entire sourcing strategy and process. This technology would automatically generate all of Google's required tag attributes from scraped job sites.
Furthermore, all job postings would show up on GFJ without employers needing to do anything. This eliminates the time-consuming & expensive process of individually adding schema to job posts. 
Automatic tagging has many benefits:
It eliminates recruiters' need for technical knowledge or resources.

It ensures that Google recognizes employer job data and assembles them to comply with Google's schema. 

This also frees up tech teams to focus on more pressing issues.  

It ensures a faster, more direct path between all job postings and GFJ.

Google is able to ensure that 100% of the jobs are sourced directly from recruiters and employers. This eliminates intermediaries (like 3rd party job boards) that clutter searches.
Google themselves would benefit here by generating billions in revenue from sponsored job ads.

The candidate experience is drastically improved.

As more jobs are published on Google, the search experience is improved. Candidates are better equipped to find relevant, high-quality jobs that match their preferences.

Candidates can apply directly on employers' sites, 

something that the majority of them want.

 This increases the quantity of qualified applicants that employers receive. 
Jobiak Is the First (and Only) ML Platform Optimized for Google 
Jobiak is the only Machine-Learning platform that can read any job page and generate job labels with more than 90% accuracy. The platform automatically recognizes all of the Google's key tag attributes, including: job title, location, description, date posted, and hiring organization.
Jobiak has developed over 20 advanced ML and deep learning techniques that work to create the job schema required by Google.
These technologies are fast and reliable. With techniques ranging from supervised algorithms (like clustering) to random forests, Jobiak's training dataset is consists of over 3.5 million job posts to help you understand how to hire employees. That includes: 
600,000+ job titles
58,000+ competencies 
17,500+ soft skills 
The data is connected by a strong relational model, which links: 
Job titles with 118+ million associations
Job titles and skills with 127+ million associations
600,000+ nodes and 27+ million edges between job titles and descriptions.  
Over 3000 thousand man-hours were spent on developing the ML pipeline required for high accuracy prediction.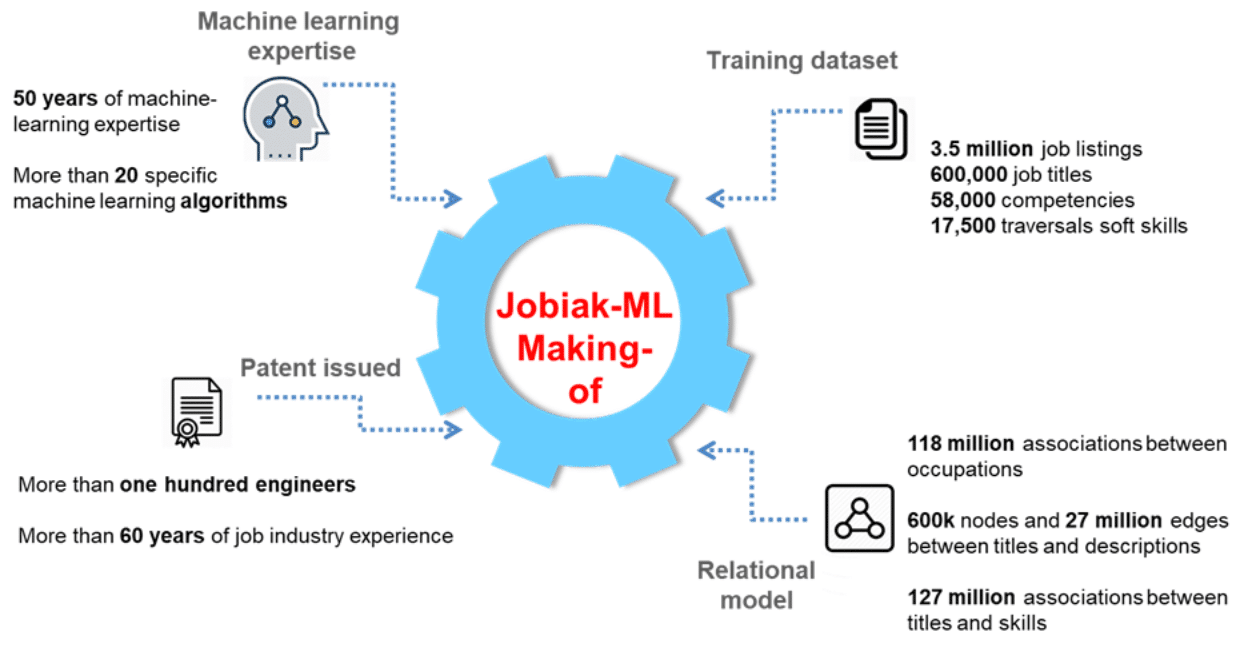 In addition to ML, Jobiak uses semantic technologies like Natural Language Processing (NLP). NLP tech can make inferences that are otherwise impossible. The technology also takes advantage of any useful information contained within a job page (like company and industry jargon, common and uncommon job titles, seniority, and location). 
Sourcing Strategy & Recruitment Marketing Using Jobiak: Examples
Here are some examples of instances where Jobiak can produce appropriate tagging results from nuanced posts to align with your sourcing strategy. All of these examples align with Google Talent Solution capabilities:
Automatic spelling correction

The same way Google search automatically corrects the name of any proper or common noun, like a city or a job title.

Identification of the skill level required for a job

This is based on factors such as the level of qualifications or seniority (e.g., "Senior Java Developer", "Data Engineer", or "Experienced Data Scientist").

Understanding uncommon industry jargon

Today's employers often use, for example, "Biz Dev" to designate "Business Developer" in their job postings.

Detecting the meanings of acronyms of job titles and geographic location

e.g. "CTO" for "Chief Technical Officer", "R&D Engineer" for "Research and Development Engineer", "NY" for "New York", or "UK" for "United Kingdom."
Jobiak's tool is unlike any other in its ability to understand job content and make accurate tagging predictions. Jobiak can help Google get 100% of all jobs from employer career sites without employers having to add any job schema.
This is an innovative approach that solves a key issue in the recruitment marketing landscape and teaches you how to adjust your sourcing strategy for the modern age. It can be integrated with Google with minimal effort on the part of employers and requires little time, no technical expertise, and no sales services.  
If you're interested in using Jobiak to leverage the power of Google's job search platform, look no further.