Google has a long history of creating platforms and products that keep people on the Google platform for as long as possible. Google Maps, Google Calculator, Google Images, Google News, Google My Business, Google Chrome… the list of programs that keep you entirely within the "Google-verse" can go on and on.
And with 73 percent of job seekers starting their job search with a Google search, it's no surprise that Google would want to capitalize on this opportunity. Hence, Google for Jobs (GFJ) was born in 2017.
Since its inception, Google for Jobs has really changed the way online recruitment and job boards are functioning.
In this Google for Jobs guide, we're going to cover everything you need to know about the platform: its main benefits, some ways it could be improved, and what the current online marketplace for jobs looks like as a result of GFJ.
Google for Jobs: What is it? A Brief History
Google for Jobs launched in 2017. The thought at the time was, as you can expect, very straightforward. And logical, given Google's position in the marketplace.
"We want to better connect employers and job seekers," Google's CEO Sundar Pichai, said at the time.
How it works is quite simple, which is why many people see the platform as the new go-to for employers, recruiters, and job seekers.
In short, Google for Jobs is a job search platform that compiles job ads postings from job boards and career websites. These jobs can come from all over the world and from hundreds of different websites.
GFJ is very similar to a traditional Google search. In fact, searches on the Google search engine that are related to careers or jobs will automatically load a Google for Jobs interface at the top of your search engine results page (SERP). GFJ can also be accessed directly.
Google Job Posting for Job Seekers
All job seekers have to do is type in a job title or type. Then, they can filter the jobs by location, industry type, employer, date posted, and more.
This makes it easier for job seekers to naturally transition from their introductory job search into the Google for Jobs platform, eliminating many people's need to go on other popular job boards like Indeed, Glassdoor, LinkedIn, etc.
The GFJ platform is more candidate-centric than other similar platforms in this regard. By gathering job posts from a variety of sources, GFJ can — to a degree (see: Indeed, below) — serve as a one-stop shop for anyone looking for open roles. In addition, by remembering your browser history in Google Chrome, results can become more and more tailored to your wants over time.
On the flipside, working through GFJ to find a job can require multiple clicks just to even get to a company's website. In addition, by automatically pulling job posts from multiple boards, a candidate can run into a number of duplicate posts. These are not ideal from a candidate experience perspective.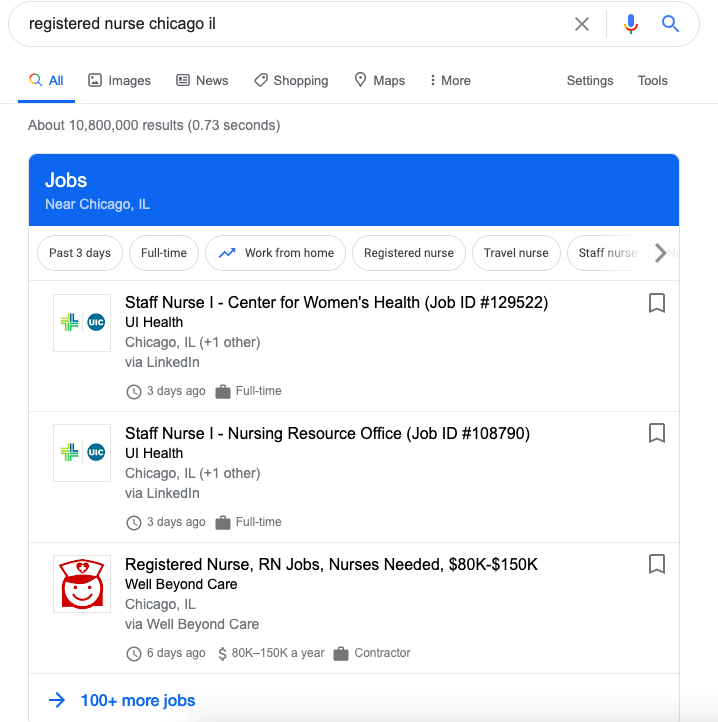 Google Job Posting for Employers & Recruiters
For employers or recruiters to get job postings onto the GFJ platform, it's a bit more complicated. The first option is to pay to have the listings put on a job board. These job boards often have partnerships with Google to get those jobs onto GFJ.
However, there are a few problems with this. The first is that many employers can't afford to pay to have their jobs posted on job boards. Also, not all job boards, notably Indeed (the most popular job board in the world), put their job posts onto Google for Jobs.
Another issue is that the job boards aren't equipped or putting effort into optimizing the posts for Google or Google's schema. More on this later, but in short: employers can have their job ads listed without charge on GFJ, but this requires a fair amount of technical knowledge in order to rank highly. (And if job boards aren't doing this well because of its complexity, many businesses certainly don't have the technical expertise to do it).
In sum, this is a process that takes extreme technical skill that many employers don't offer their talent acquisition teams. As a result, their job listings on GFJ often don't rank or show up at all.
We'll go into these and other issues with GFJ later in this guide.
Benefits of GFJ
Before we delve deeper into some common issues that GFJ is facing, let's look at why GFJ has seen success and what benefits it's bringing to the online recruitment industry.
Jobiak has found that organizations and candidates alike report the following benefits:
Taking Advantage of the Google Platform
As we said earlier, 73 percent of job searches start on Google. Also worth noting here: Google owns a comfortable (to say the least) 92 percent market share of worldwide Internet searches. In the United States, it's 88 percent.
With the jobless rate hitting an all time high in April 2020 (with 40 million filing for unemployment in the last few months) — and an average of 118 people applying to every job posted online — that amounts to a huge market for potential for online recruitment.
For employers, this means getting your open positions on the world's most popular search engine, and the place where the majority of people start their job search. From a pure volume standpoint, this is bound to bring the best candidates possible to employers' job openings by bringing in so many applications.
---
Jobiak's platform helps employers fill jobs faster by optimizing job posts efficiently.
How? Find out more.
---
For job seekers, your entire experience can remain in one location with a few simple and easily-recognizable Google searches to keep your job search efficient and streamlined.
GFJ works for both employers and employees from a convenience standpoint as well. Google Chrome is the world (and country's) most popular search engine; close to half of all searches in the country start in Chrome, which makes GFJ very easily accessible.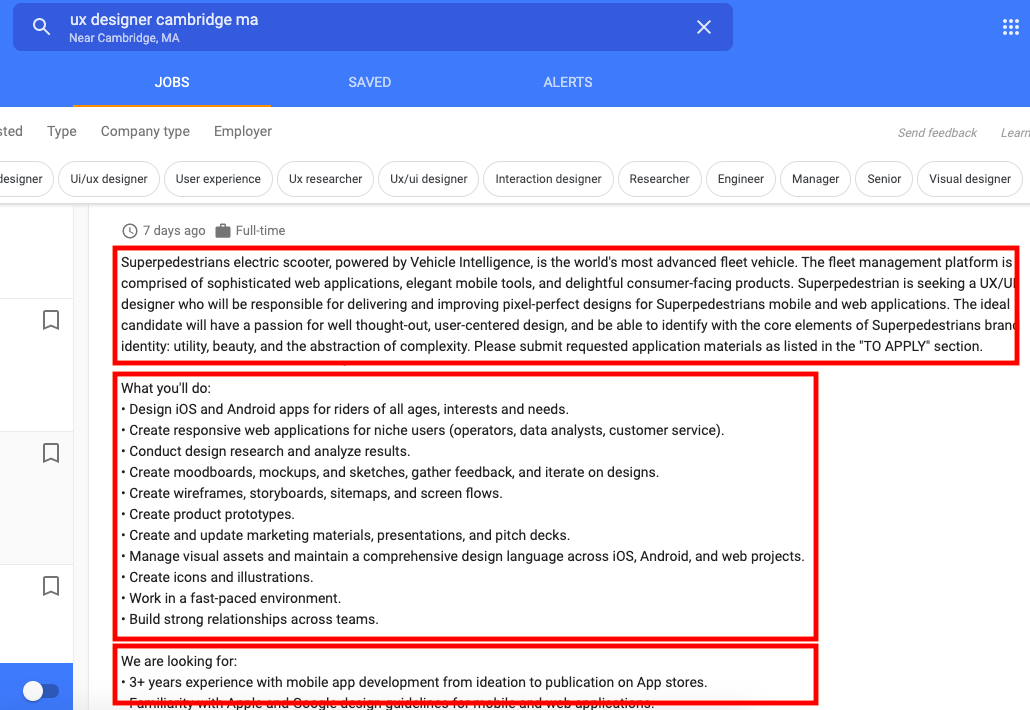 Higher Quality Candidates, Shorter Time To Hire
Because GFJ can use targeted categories, complex schema, optimization, and its highly intelligent algorithm, qualified candidates are better able to find jobs that suit their skills. These better candidate-job matches means that employers can fill these jobs faster and more efficiently.
One example we found of this in action is with the Johnson & Johnson Company. Johnson & Johnson receives about 1 million resumes every year for open positions, but they were finding that only a small percentage were qualified applicants.
Since they began working with Google and GFJ, they have experienced a 41 percent increase in highly-qualified candidates.
Candidate-Focused User Experience
Google made great efforts to make the GFJ platform user friendly and candidate-focused.
Because Google for Jobs aggregates jobs from all around the web, it's a convenient and efficient way for candidates to search for positions. Instead of having to check 10 different job boards, GFJ makes it a single search to get almost all of the results in one place.
The familiar search platform also makes it easy for candidates to understand and use the platform with a fast learning curve.
Other job boards and career websites prioritize job posters and recruiters, oftentimes showing paid ads to show up in results instead of showing results the candidate is looking for. Google for Jobs doesn't operate like this, and instead opts to use its algorithm to better tailor results to each candidate's search.
Google's algorithm also uses machine learning to improve its results. Over time, it learns the specifics of what certain searches are looking for, what job seekers want to find, and how to best give those results.
Google for Jobs vs Google Hire
But wait… doesn't Google have another jobs related platform called Google Hire?
Yes — Google Hire exists and it has existed since 2017, just like Google for Jobs. While Google for Jobs is more of a job board type platform, Google Hire is an Applicant Tracking System, or an ATS.
Google Hire is focused more on recruiters and employers looking to keep recruitment and hiring information on applicants organized and streamlined. Also called Hire with Google, this platform claims to help recruiters hire more efficiently with the help of AI technology.
---
Learn more about the major differences between the two platforms in our article, "Hire with Google: The Difference Between Google for Jobs & Google Hire (ATS)."
---
All that being said, Google Hire will be shut down on September 1, 2020, leaving Google for Jobs as the company's only jobs platform.
GFJ's Issues
Despite all of these benefits of Google for Jobs, the platform has run into a few issues that make it difficult for employers and job seekers alike to get the most out of it. Let's look at a few.
Schema
In order to get job openings onto the Google for Jobs platform, the job posting needs to embed specific and complex schema, also known as structured data. This requires specific and technical knowledge that most talent acquisition teams don't have on hand.
This creates a barrier for a number of companies trying to get their jobs on GFJ. They could go through a job board, but that requires a larger monetary investment and doesn't even guarantee that they'll end up on GFJ. Or if they do end up there, there's no guarantee they'll end up
The other option would be to try to get the jobs onto GFJ themselves, but most companies and businesses aren't able to do that thanks to the schema barrier.
Some applicant tracking systems offer the ability to input the structured data for the job posts, but: 1) many do not, and 2) those that do don't fully optimize their GJS posts.
---
Learn more about Google schema problems in our article, "Google Schema Is Hurting Google Jobs' Growth and Experience."
---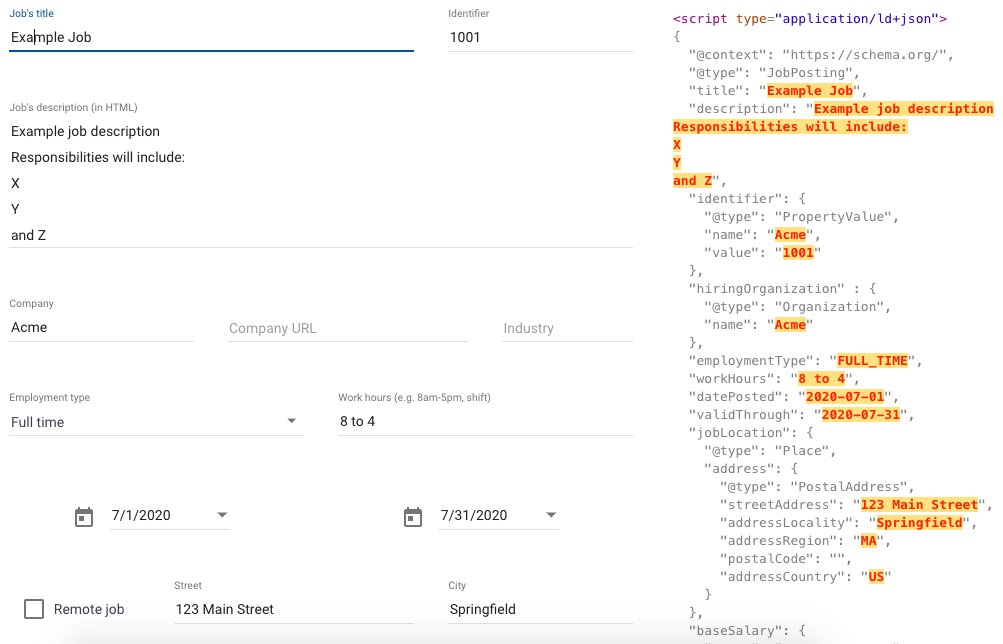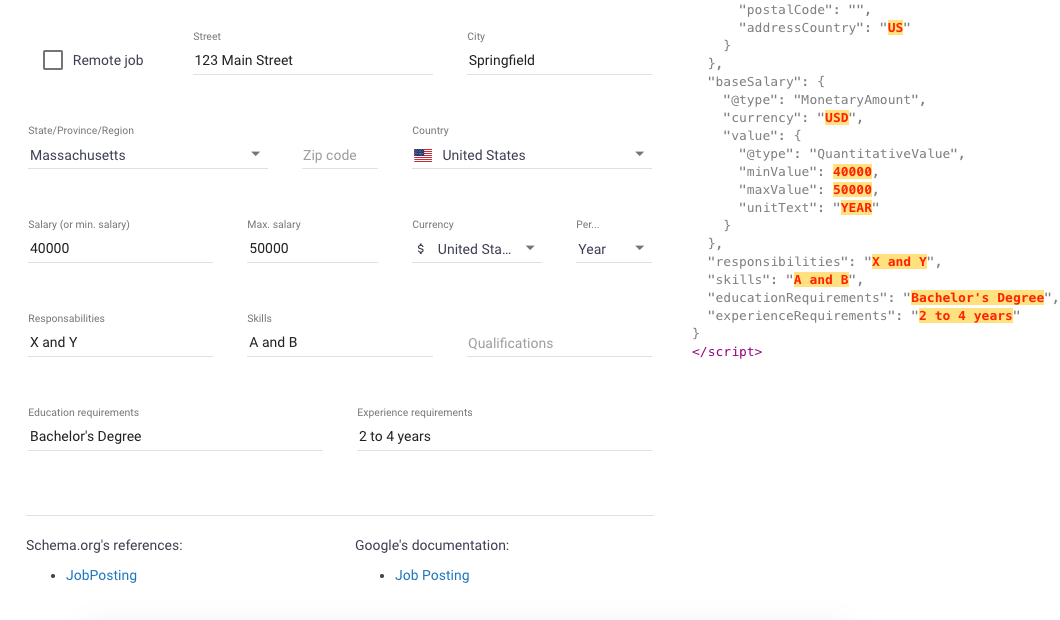 Optimization
Speaking of being seen by job seekers, structured data just one part of structuring Google job postings for employers. This is Google after all: the king of Search Engine Optimization (SEO).
Because Google for Jobs is integrated into the entire Google experience, SEO is essential for having your jobs on GFJ and have them rank high up in a job search.
However, just like Google's standard search algorithm, the exact GFJ algorithm is largely unknown. Understanding what factors, job titles, and details to include in these job descriptions can be challenging for employers and recruiters alike.
(Of course, Jobiak has invested over 400,000 man hours studying exactly this so we can optimize our clients' job posts. But sadly, not everyone partners with us.)
For example, Jobiak has found that including salaries in job descriptions is essential, yet Jobiak CEO Venkat Janapareddy says that, "90% of jobs on Google for Jobs don't have salary [in the description]."
These optimization issues and ambiguity can make it hard for many businesses to get their jobs seen by job seekers. Smaller companies, ATSs, and RMPs are especially impacted since they lack the resources and money that larger companies can use to get their jobs to the number one spot.
---
Learn more about optimizing your job posts in our article, "How to Optimize Your Google for Jobs Posts."
---
ATSs & RMPs
Despite boasting that Google for Jobs aggregates job postings from all over the web, ATSs and RMPs have had a notoriously difficult time integrating with this new platform.
Many don't appear at all on GFJ and if they do they don't usually rank well. This means that hundreds or thousands of jobs that are posted on these ATSs and RMPs won't appear on a GFJ search. Certain jobs won't appear in front of job seekers, harming both employers and candidates searching for work.
You can learn more about why ATSs & RMPs are struggling with Google for Jobs here.
Google for Jobs vs Indeed: Battling with Other Job Boards
Indeed is the most popular, and arguably the most well-known, online job board out there right now. With over 250 million visitors to their website monthly and most all of their postings ranking number 1 on organic search, Indeed is definitely the leader of the job board pack.
Currently, Indeed is not integrated with Google for Jobs. Many other job boards have a partnership with Google that will adjust job postings to add Google schema and get their postings on GFJ as well.
Indeed opted out. However, if they ever do opt-in, Google for Jobs could be in big trouble. This would cause GFJ to be flooded with Indeed job postings and cement Indeed into the dominant position in the online recruitment market.
On the other hand, if Indeed doesn't opt into a partnership with Google for Jobs, then Indeed could be in trouble. Job searches now place the Google for Jobs interface above organic search results, which is pushing Indeed's postings further down the SERP.
This rivalry is still evolving, and will likely continue to change as the online recruitment market does.
---
Learn more about the Google for Jobs vs Indeed battle on our blog.
---
Google Job Posting for Employers & Job Seekers: Where Things Stand Today
Despite these issues, the benefits of Google for Jobs are undeniable. Google for Jobs is one of the pillars of online recruitment, and we predict that its impact is only just beginning.
Thankfully for many, there is a new technology that can help make it much easier and streamlined to get positions onto Google for Jobs. Jobiak is an AI-powered machine learning tool that can optimize and structure your job postings to get increased applications, high quality candidates, and to the top 20 on Google for Jobs as soon as possible.
As stated earlier, we have put hundreds of thousands of man-hours into developing this tool. If you want to rank well on Google for Jobs, we stand by our ability to help you do that.
How Jobiak Works
Jobiak makes the job posting process simple and streamlined by posting your jobs to Google for Jobs directly for you.
Our AI-powered tool will scan your job post and identify key terms & attributes that Google requires for schema & optimization. Then, our tool will create the proper code for you to get the job on the GFJ platform and get it optimized so it can quickly climb the ranks in search.
Businesses and employers won't have to take on Google's complex structured data requirements and ambiguous optimization guidelines. Our technology will do it for you, generating relevant keywords, schema, and optimization to get your job listings in front of the right candidates.
Our tech also emphasizes the candidates' experience, making it easy for them to go from searching to finding your job opening to applying in a few easy steps.
See more details on how our technology works here.
Need More Help?
We hope that this guide gives you some helpful information for understanding Google for Jobs and how Google job posting for employers & job seekers alike is evolving and changing with each new platform that arises.
However, we also understand that there's a difference between understanding a platform and the obstacles you could face using it and actually working with and around those issues effectively. That's where we come in.
Jobiak's technology makes it easy and efficient for employers big and small to get their jobs on Google with the proper schema, optimization, and integration to create a candidate-focused experience.
If you're ready to get your jobs on the most popular search engine in the world quickly and efficiently, contact us. With our tech and your open positions, your jobs will soon be in front of high-quality & targeted applicants.
Learn more about our offerings here and don't hesitate to contact us with any questions.