If you're a job seeker, odds are that you'll be using the internet to look for your next gig (it's estimated that 80% of job searches are conducted online.) Yet despite the internet being the go-to for job searches, it's a sad truth that the online candidate experience is far from optimal. 
With over 50,000 job boards globally, one of the hardest questions for both employers and candidates to answer has been: where do I focus my efforts? 
While, in many ways, this massive volume of job search resources is a good thing  (think more democratized access to information), the current search experience is synonymous with lengthy application processes, outdated job postings, abandoned applications, and general confusion. 
It should be easy! 
In response to the "where do I focus" question, many employers and job seekers naturally turn to the place where they search for virtually everything else:  Google.
In this article, we take a look at:
The potential for Google's job search platform, Google for Jobs, to become a one-stop-shop for job searches

The current issues with the job search experience on Google

How new HR technologies can improve both the candidate experience as well as the success of talent acquisition teams online
Google for Jobs: Addressing a Need in the Job Search Market
The mass confusion and challenges inherent to online job searches, which we alluded to above, is what triggered Google's 2017 announcement of Google for Jobs which was launched as a one-stop, candidate-centric resource to help employers and candidates efficiently find their ideal matches. 
An interview with Nick Zakrasek, the co-founder and product lead at Google for Jobs, highlighted this intention: "So many people start their job search on Google, it's important that we leverage our core capabilities around search and AI to help with this critical user journey."
Google's brand, it's history of creating stellar products, and the fact that over 70% of job seekers start their job searches on Google all meant that it was not unreasonable for Google for Jobs to actually become the go-to platform for online job searches. 
So, did Google manage to address the issues with the candidate experience and applicant conversion that has plagued so many other job boards?
The State of the Google for Jobs Candidate Experience  
While Google for Jobs showed immense promise to create a positive candidate experience, the reality is not exactly living up to the hype. 
Google's current job search experience is a far cry from perfection – a frustrating, circuitous, multi-step journey awaits candidates even after they click on a Google for Jobs listing. This reality often prevents job seekers from applying to jobs in the first place. 
Google for Jobs has in many ways become an ad platform for third-party job boards. These third parties are focused on generating clicks and resumes instead of providing valuable, relevant content to users, which has further inhibited the dream of a candidate-centric platform. 
Their actions not only pollute the Google for Jobs search experience, but also have negative downstream effects on smaller organizations (who lack lack the time and technical resources to optimize jobs) and Applicant Tracking Systems who are unable to get meaningful results from the platform.
Far from the original goal.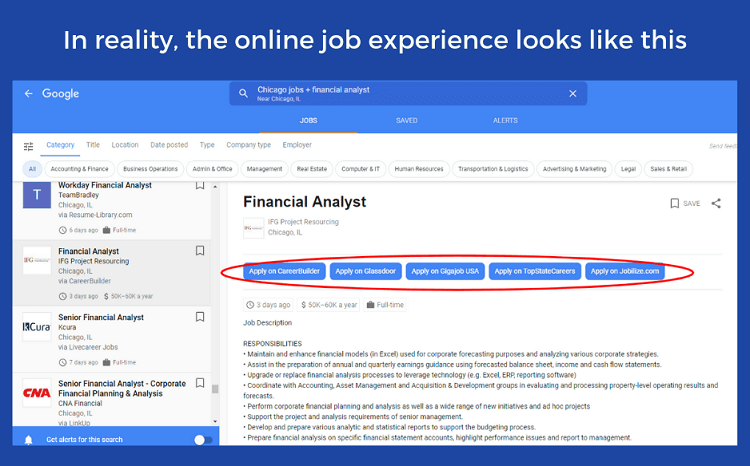 One of the outcomes of the current Google for Jobs experience is that candidates increasingly abandon applications to jobs that they are often a good fit for (refer back to the archaic, roundabout application process). 
In fact, a study by Appcast showed that about 95% of candidates who click on a job ad don't actually follow through to complete their application. And, yes, while that number is likely inflated by meaningless clicks and several other factors, it's simply too large to scoff at. 
For employers, this frustrating application process reflects poorly on their brand which is a perception they can ill afford in a largely candidate-driven job market.
When job boards and other third parties collect candidate information and then bombard them with job descriptions from other employers, this further compromises relationships with candidates. Oftentimes, candidates don't even end up on employers' career sites, thereby missing key information about those companies' missions and cultures.
This creates a misalignment between candidates and job postings, which ultimately increases recruiting time and costs for employers.
An Audit of Google For Jobs Expose Abuse of the Platform  
At Jobiak, one of our core focuses is to improve the online job search experience. So, we took a closer look at the current state of job postings on Google to see how serious the problem has become. 
We audited the average number of steps it takes for a job seeker to actually get to an application. We also looked at the percentage of third parties that candidates encounter who require email addresses and resumes.
The findings confirmed our fears: 
~40% of job posts require 2-4 steps before candidates even get to an application 

At leaset 7% of job attributes are manipulated by 3rd party job sites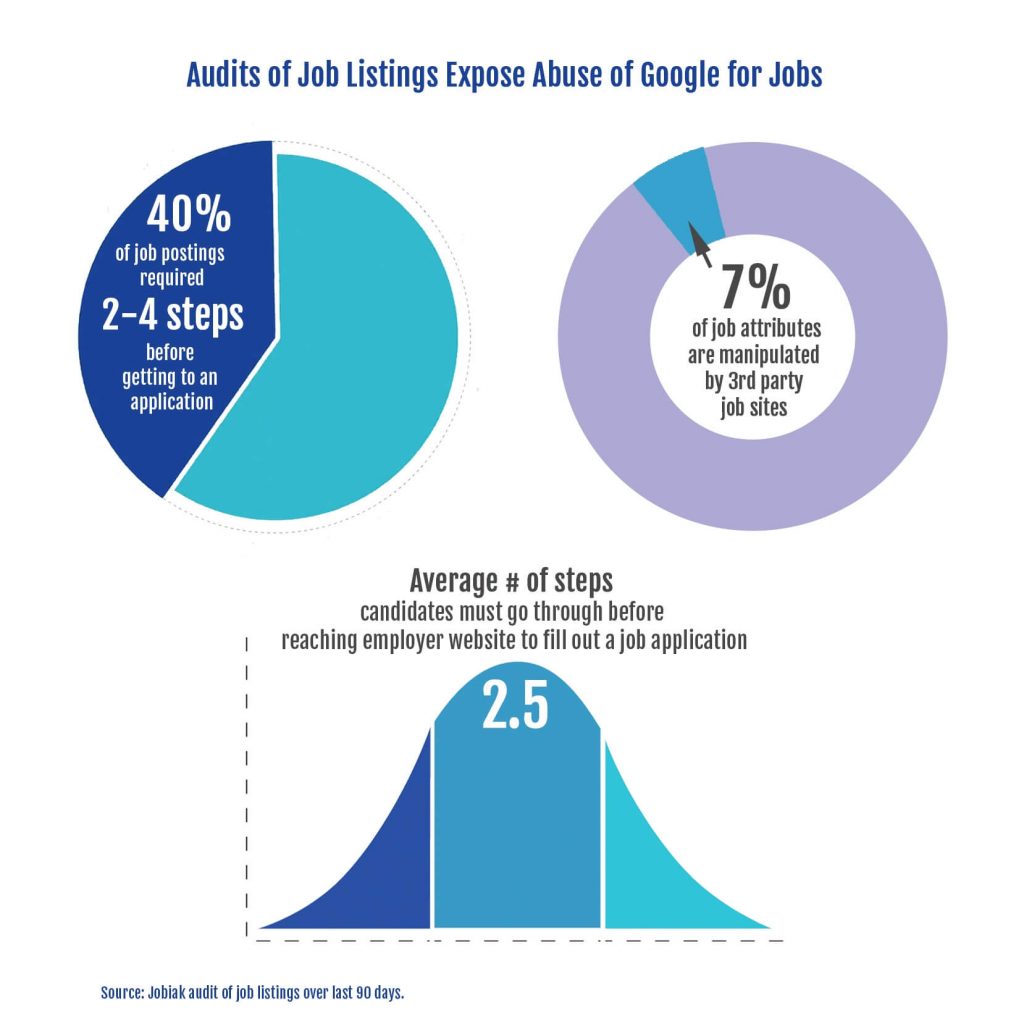 Here's a deeper look at what we found in our audits:
Audit 1 – Jobiak reviewed 2.5 million job posts across 500 cities and found: 
Candidates must take an average of ~2.5 steps before landing on an employer's career site where they are able to fill out an actual job application. 

At each step, candidates are asked to provide personal information – often the same information in each step – and upload a resume.

10% of job listings required more than 3 steps to get to an application
Audit 2 – Jobiak reviewed 2,000 job posts across several major cities over a 90 day period and found:
Numerous examples of large organizations posting multiple instances of the same job and manipulating job posts to improve their click rates. Examples include: 

altering the title of a job while maintaining the same employer name(s) and job descriptions

altering the job description while maintaining the same employer name(s) and job titles
At least 7% of job attributes are manipulated by 3rd party job sites.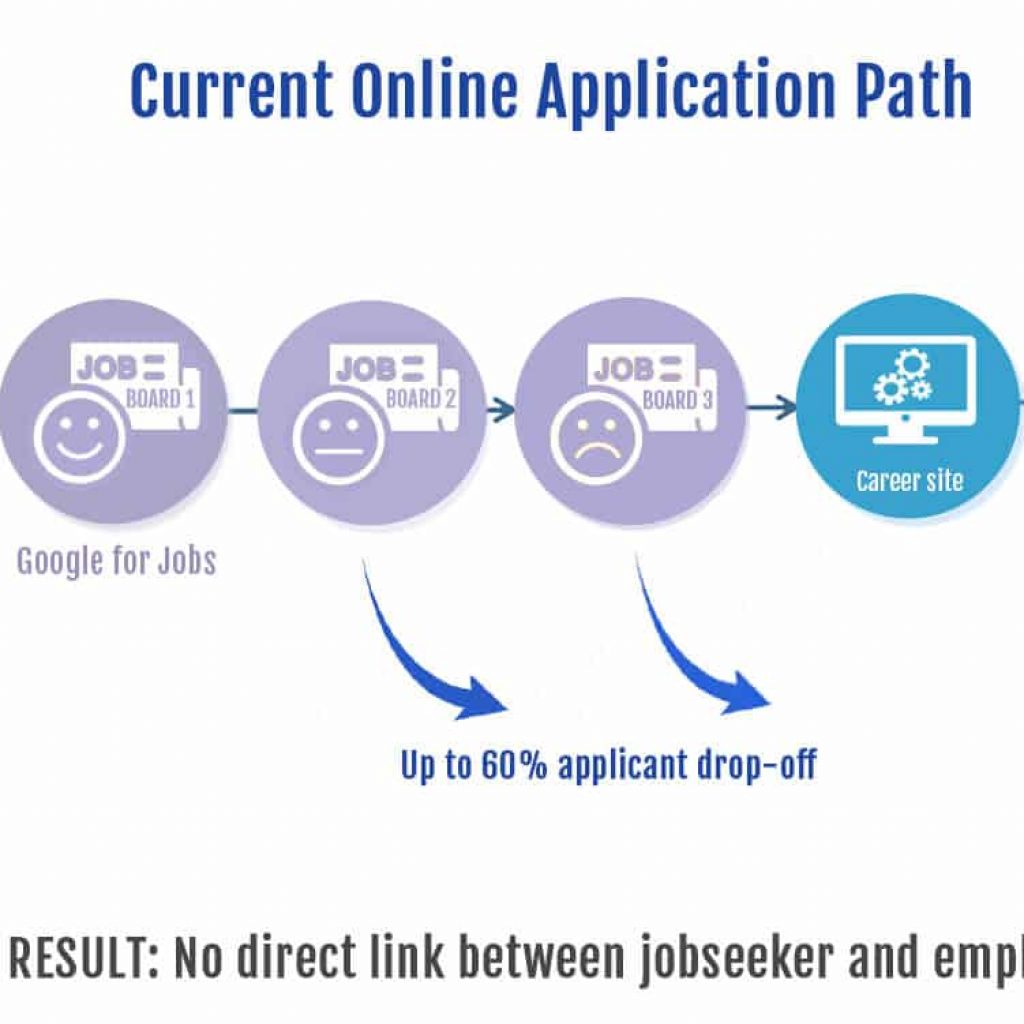 What needs to change?

Studies show that over 60% of job seekers like to visit an employer's website before applying for an open position. A similar percentage of candidates express a preference to apply directly on an employer's career site. 
This discrepancy between what job seekers want and what the current experience on Google provides is yet another reason that changes need to be made for a better online job search experience.  
To put things simply, several things need to happen to reduce friction in the online application process to benefit both employers and job seekers: 
Stop intermediary landing pages from disrupting applications, limiting each job posting to one 

Give preference to direct employers/application links instead of to job boards in search rankings.

Clarify, upfront, the paths and options that candidates can take to apply to a given job. 

Eliminate the duplicate job posts that are created when large organizations  alter attributes like job titles, descriptions, and locations. 
As of now, employer career sites and job postings are often invisible to job seekers searching in Google, as Google for Jobs and job boards own the first several pages of results. It's even become difficult for employers to optimize their posts on the platform without allocating a tremendous amount of resources that most talent acquisition teams simply don't have to spare. 
How Employers can take things into their own hands with AI and automation 
Although Google is taking steps to rewrite the rules for job searches on Google, as is evidenced by stricter schema requirements and Google bot training (to do things like flag duplicate job posts), employers simply can't afford to wait – Google's potential for optimizing talent acquisition is too good to pass up. 
Luckily, emerging AI and automation-based recruitment technologies give employers the opportunity to efficiently get their job posts in front of the most relevant candidates and even the Google for Jobs playing field.
These technologies automate the posting and optimization of jobs for employers who lack the resources to do so themselves. With dozens of key ranking signals uniquely suited for each organizations, the technology is optimizes, structures, and posts all jobs to rapidly accelerate qualified candidate flow. 
The algorithms are even able to scan and implement targeted keywords, SEO optimizations, meta tags, market and industry signals, location, and other information so that jobs are not only posted but ranked highly in Google search results. 
Additionally, the technology creates the ever-important direct application link between Google and an employer's career site, resulting in a drastic reduction in application abandonment rates. 
This enhanced job seek-and-apply experience creates a funnel of qualified candidates and greater productivity for talent acquisition teams. 
One of the best parts? This is all accomplished in a matter of hours, not days or weeks. 
The benefits are significant: 
More views, impressions, and clicks on job posts for employers 

More qualified candidates

Better perception of employer brand 

Higher applicant conversion rates

Simplified direct apply features to improve the candidate experience

A lower cost and time to hire 
That's right – with automation, the candidate and employer experiences are greatly improved in the place where the majority of people start their job searches: Google.
4x YOUR QUALIFIED APPLICANTS FROM GOOGLE WITH AI 
Getting Google for Jobs right can quickly become a full-time job. Let AI and automation check all the boxes for you.