In 2017 Google launched Google for Jobs (GFJ), the job search widget that aimed to aggregate job postings from across the Internet to create a one-stop-shop for applicants directly on a Google search.
This would create a Google job posting platform that included jobs listed on job boards, applicant tracking systems (ATS), and recruitment marketing platforms (RMP). 
The idea was for Google job postings to offer optimized, streamlined, and organized job advertisements to both job seekers and employers alike. 
As these are standards that we've come to expect from any Google-backed platform, and since 73 percent of job seekers start their searches on Google, this made a lot of sense…in theory. 
In actuality, though, the playing field isn't as even as one might think.
Google job postings from ATSs and RMPs are rare, and often don't even make it onto the Google for Jobs platform — let alone to the top of searches. 
Misleading and redundant posts from job boards and programmatic job advertising platforms often lead to an abuse of the platform. This is because these providers are focused on generating clicks and conversions instead of creating a process that has the best interests of candidates and employers in mind.
This directly impacts jobs posted through ATSs and RMPs which hinders their success and, consequently, the entire GFJ experience. 
There are three predominant practices applied by many job boards and large organizations that limit the success of ATSs and RMPs on Google for Jobs. Let's look at them more closely: 
1. The Candidate Journey Is Elongated 
Instead of the GFJ platform streamlining the candidate application process, the experience can often be redundant and tedious. For example, any given Google job posting can have anywhere from 2 to 6 locations for a candidate to apply.
This can be confusing (where to apply?!), and it also takes time.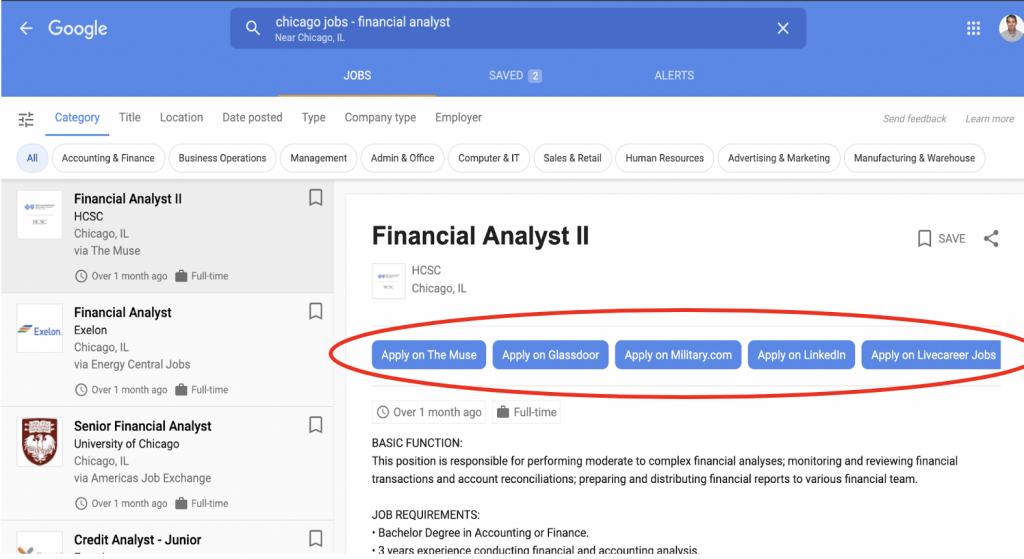 On average, candidates have to take at least 2.5 steps before reaching an employer's website.
This makes the job application process extremely long, and often results in candidates abandoning their applications. In fact, over 60 percent of online applications are abandoned before candidates even reach an employer's website.
Unfortunately, job boards and programmatic job advertising platforms — paid by the click — don't really care about things like this.
The primary goal for many of the listings currently on Google for Jobs is therefore to generate the clicks and resumes that, for these companies, means more money in the bank.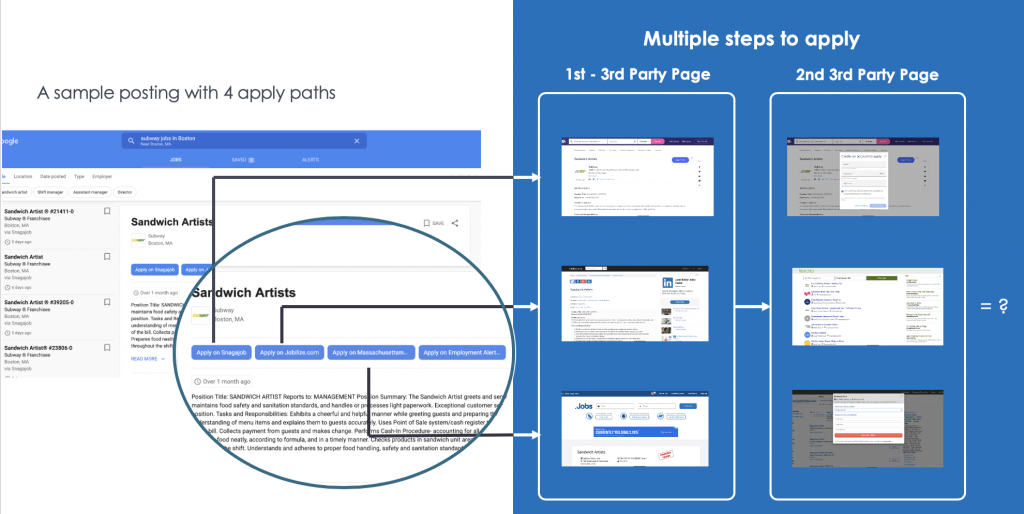 This benefits these third-party sites since their jobs are optimized, seen, and clicked on by job seekers in GFJ.
However, the confusing and elongated candidate journey hurts both the applicants and the employers that are looking to fill those positions. Applicants are frustrated, while employers are left scratching their heads. 
2. Spam Content 
In order to get job posts seen, many third party job boards post the exact same instance of a job multiple times, only with slight changes to these posts. The more clicks they can get on their posts, the more money they make.
This approach creates an onslaught of duplicate listings that clog up Google for Jobs. So, not only is the user experience poor once a job is clicked on — but finding the right jobs in the first place is even harder if you're a job seeker because of all the duplicate listings!
This doesn't even count the expired job listings that aren't removed for search results.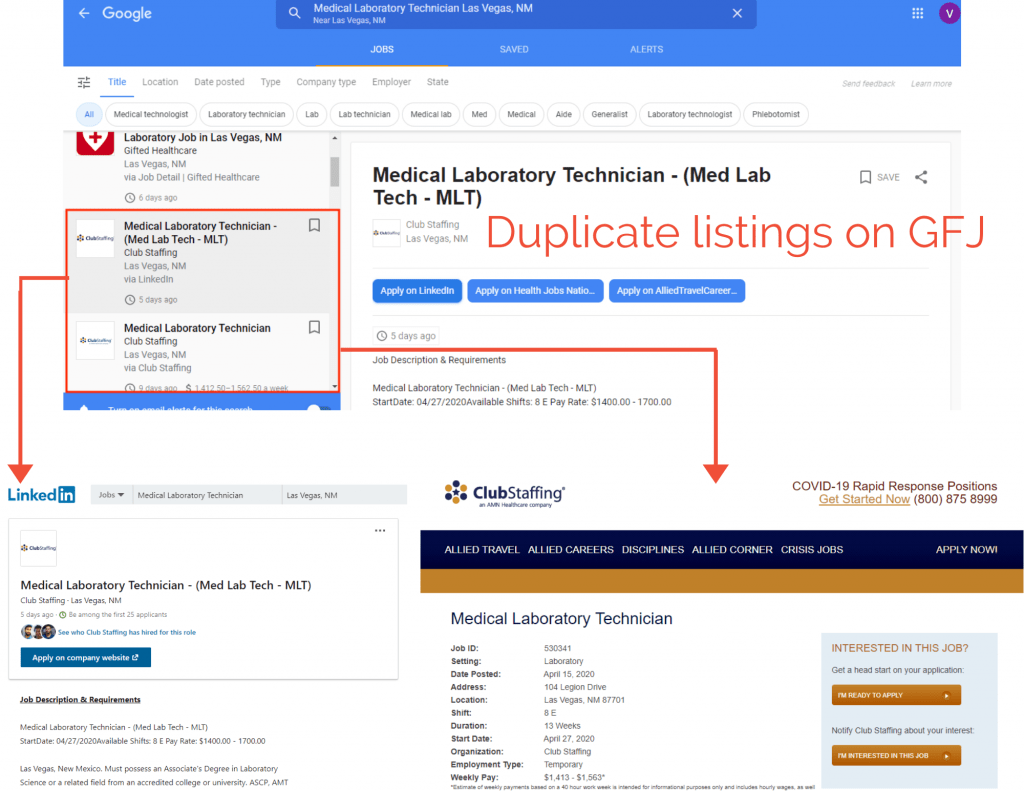 As a result, it's harder for "legitimate" or "regular" jobs to be seen. Candidates are left wading through redundant listings, wasting time scrolling past job posts that shouldn't have been posted in the first place. 
This time and energy expenditure contributes to high application abandonment rates and a general distrust in the Google for Jobs platform.
3. Fraudulent & Fake Listings 
Fraudulent listings are not too unlike spam posts. 
Both clog the user experience with the intent of deceiving job seekers to click on a Google job posting. Fake listings don't even bother trying to send users to legitimate job posts — they (eventually) direct users to a home page or service page –  no job at all!
The intent with these posts is actually to try and get job seekers to purchase something. A learning platform, for example.
Unlike spam posts, fraudulent job postings amend information in the job posting to deceive users into thinking they are clicking on a different job than they otherwise would. 
For example, a job title might actually be posted a step or two up the corporate ladder. This misleads candidates into clicking on them… only to later find out that they've been duped.
While adjusting job listings to include certain keywords and optimizations is fine (and even encouraged in order to maximize visibility on GFJ), this takes things a step too far.
Fraudulent posts might advertise something that sounds great — a part-time, work from home teaching gig, for example. However, if you were to click in a few times, you would realize that you're on a website selling a service that's actually selling you the classes. 
Lack of Job Posting Resources for Employers
You might be wondering a few things. 
First, why waste money on job boards at all? (The short answer: don't). 
On a higher level, if some ATSs and RMPs actually do have the ability to optimize their job posts, why are spam posts, fake posts and the overall candidate experience creating such a miserable experience on GFJ? 
Shouldn't their optimization be able to overcome these things? 
Unfortunately, there is a high barrier to entry for job posts on Google for Jobs.
In order for job posts to make it onto the platform, they must be optimized to fit Google's complex schema criteria. Many ATSs and RMPs do not implement Google's desired structured data at all. And those that do have limited success aligning the content of job posts with all the required fields in Google for Jobs posts. 
The result is what we've laid out here: a platform that's supposed to cull the best and most relevant jobs but is mostly being manipulated for nefarious purposes. Many of those who do fit their posts to GFJ's schema requirements are not really interested in candidates. 
So… what can be done about it?
Jobiak Can Help Improve a Google Job Posting for ATSs and RMPs
ATSs and RMPs can get on an even playing field by using AI and automation technology to optimize and structure their job posts for Google for Jobs.
How? Jobiak's technology makes it simple, easy, and efficient to get job listings on the Google for Jobs platform — and get them to rank highly. In the top 20. At least. 
Jobiak optimizes each listing with GFJ's schema and keywords to get job postings seen by the right candidates by targeting them with relevant keywords and phrases within the posts themselves. 
A solution like this levels the playing field. Jobiak becomes a technical resource that will set up posts with the proper schema, optimized keyword implementation, and more. This is all done cost-effectively, quickly, and with minimal involvement necessary.  
Using Jobiak to create these highly optimized listings, ATSs and RMPs finally have a fighting chance against the big job boards and fraudulent activities that are clogging up Google for Jobs.