Google for Jobs launched in 2017 with the goal of providing a user-friendly, data-rich platform to seamlessly connect job seekers with highly relevant job opportunities. The solution aggregates job posts from across the web, housing listings from job boards, ATS', RMPs, and other career websites. This takes much of the hassle out of the job search and hiring processes. 
Google for Jobs has been met with both tremendous praise as well as harsh criticism; while it provides job seekers with the user-friendly, comfortable experience that has come to be expected from Google products, employers are finding it difficult to actually post jobs there in the first place. 
One of the features causing this difficulty is consequently one of the most controversial: Google schema requirements, which are well-intentioned technical barriers that are ultimately meant to aid both candidates and employers. Instead, they've overcomplicated the job posting process. 
After reading this article, you'll have a better understanding of just what Google schema is, how it relates to the Google for Jobs platform and how, as a leader in talent acquisition and recruiting, you can make sure you get value from the platform where the vast majority of job seekers start their job searches.
What Is Google Schema? 
Let's start with the basics. 
The idea of schema itself, often referred to as structured data, is relatively simple. 
Google schema, and schema in general, is a type of microdata that helps search engines understand and evaluate the content of certain pages or websites. Schema is usually integrated into the HTML code of web pages, where these little bits of code help search engine bots interpret what the pages are saying, what they are, and where they should appear in a given search (or if they should appear at all). 
In the case of Google for Jobs, schema helps search engines do this with job postings. This job data then helps the platform create better, more relevant job search results. 
You can probably see how this would be relevant when it comes to the candidate experience – Google's structured data requirements ensure that the details that are displayed to end users (i.e. job seekers) on the Google for Jobs platform are actually relevant to them. This means they are shown jobs that they're a fit for, that are exact or highly connected matches to their search queries, and that are actively hiring.
Why Use Schema?
Though we answered this question in the previous section, it's important to drive home just why schema is useful in the context of Google for Jobs. 
With most websites and pages, schema is a great thing to incorporate because it can improve SEO (search engine optimization) quality, search engine rankings, and enable publishers to better target specific audiences. 
When applying this idea to getting high-ranking jobs posted on Google, schema ensures that job listings are able to target a larger, more active, more relevant base of potential applicants. 
The information that the Google bot gathers from job post schema means jobs are better categorized and targeted. This not only improves the volume and quality of applicants, but also the applicant conversion rate and the time recruiters must spend sourcing and vetting candidates.  
Taking a high-level view of the search ranking signals that lead to high-performing job posts on Google, schema can sometimes be looked at as more of a "nice to have" than a "must have". When you add the fact that schema configuration is highly technical and difficult to get right,  it often gets deprioritized.
What's important to note is that Google for Jobs works a bit differently – in order for a job posting to even appear on the interface, let alone rank highly, job posts must adhere to Google's schema requirements. 
Unless you work with a separate job board or website that's fully integrated with Google for Jobs, you'll need to add these schema requirements yourself. You'll also need to add them individually to each job post.
Many of the most widely used job search platforms (like Indeed) do not integrate with Google for Jobs, which is one of the main reasons that so many employers have found it difficult to leverage the power of Google search to improve their recruitment efforts.
What has Google done to help employers? 
The Google for Jobs team hasn't left employers entirely on their own – they've outlined how to make sense of their schema requirements here.
But if you spend even a few moments perusing through Google's schema documentation you'll quickly notice that the process is highly technical and, regardless of your technical literacy, time-consuming. 
We're probably preaching to the choir but when it comes to the fast-paced nature of the recruitment landscape, time is of the essence. Recruitment teams rarely have the technical knowledge or resources to dedicate to a platform like Google for Jobs when juggling so many priorities. 
Here's an example of one piece of a job post that meets Google's schema requirements (using the JSON-LD format code):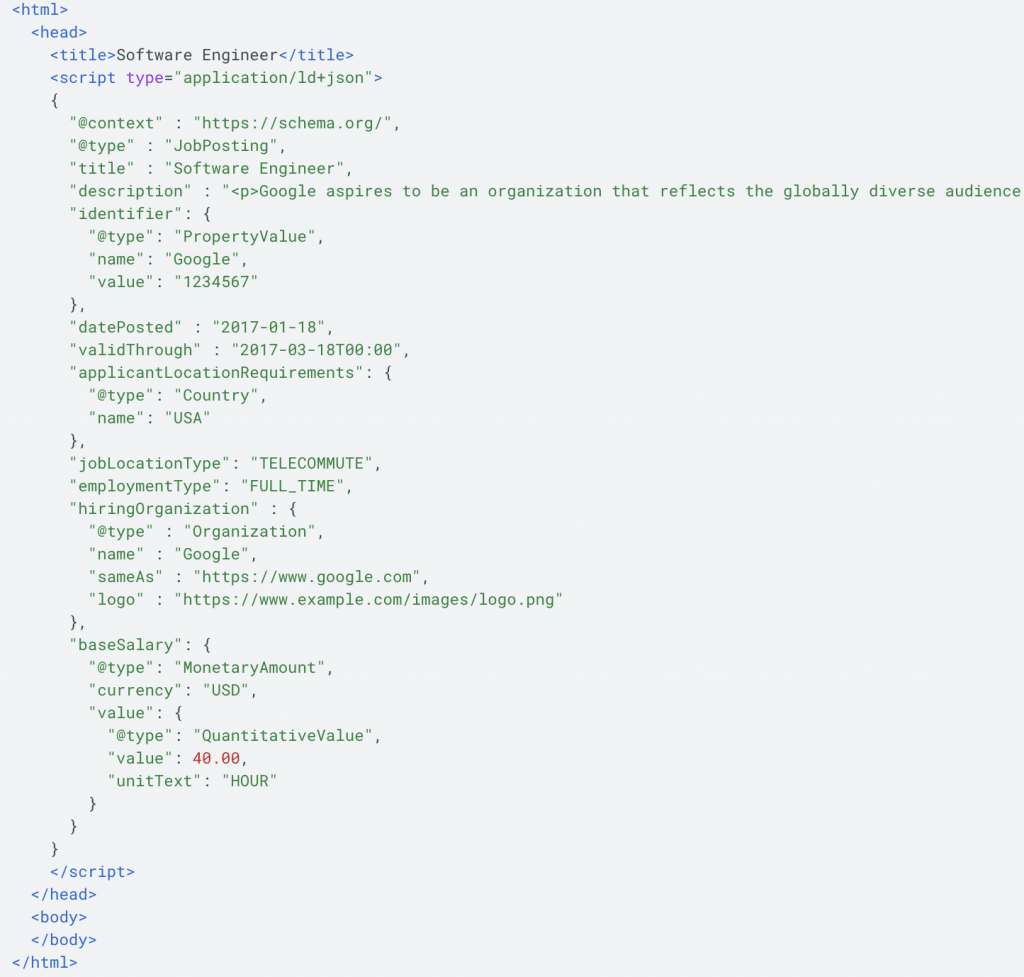 You'll notice various schema indicators in the image above that help Google categorize and understand the job posting in question. This includes things like job title ("title"), job location ("jobLocation"), the company that's hiring ("hiringOrganization"), and the company's logo ("logo"). Keep in mind that this is just a glimpse into the schema that you can include in your job posts, each of which is highly technical. Other details may include working hours, remote work categorizations, industry information, and a whole host of others. 
Google Schema Checker
Even for those with the technical training to understand Google schema, the process can be complicated. That's why Google rolled out a tool that helps developers and recruitment teams assess whether they've configured the schema correctly. You can find this structured data testing tool here.
Problems with Google Schema on Google for Jobs
Despite the benefits of schema, they bring about a number of issues (in addition to those we've already mentioned) that detract from the Google for Jobs experience for both employers and job seekers. 
Let's take a look at a few of the most prominent issues with Google for Jobs schema:
Google Schema Is Technically Difficult
Not to beat a dead horse (as the saying goes) but the first and perhaps foremost problem with Google schema is how technical it is. 
Even the tools you can use to confirm whether you've configured schema correctly are difficult to understand unless you're trained. 
This has pushed many employers to post their jobs on competitor job boards to avoid working with the technically difficult schema.
It's Time-Consuming
Time is money, and it's also one of the most valued resources for recruiters. 
This makes the time-consuming nature of Google for Jobs' schema requirements an unsurprising deterrent for talent acquisition teams. 
Adding schema takes significant time, effort, and resources that most recruitment teams simply don't have. Even if you have a technical resource on your team, they're likely better off focusing on other priorities.. This is especially true given the breadth of job search options there are for job seekers; employers are already struggling to determine which hiring channels they should focus their time and energy on. 
Without training or understanding, it can take hours to post just a few open jobs to Google, with no guarantee that they'll even show up in the top search results. When efficiency is of the utmost importance, this is problematic.  
Unless you have an abundance of resources to dedicate to Google for Jobs optimization, or partner with a specialist, chances are you'll be losing time and compromising on other priorities.
Many businesses lack the resources and technical know-how to satisfy the schema requirements let alone follow them well enough for jobs to be seen, clicked, and applied to.
---
Hear it straight from the experts: Jobiak CEO breaks down his opinion on Google's schema requirements and its impact on GFJ.
---
Failing to Follow Schema Requirements
The complexity of Google's schema often means that it's often incorrectly formatted. This can feel like a slap in the face, especially if you've already allocated lots of resources toward it. 
Poor schema configurations can even be purposeful; some job boards and organizations adjust schema inputs like job locations and titles in an attempt to take advantage of the Google for Jobs platform. This sort of manipulation often leads to several issues including:
Blank job listings

Misleading or expired job posts

Duplicate job posts that clog up the Google for Jobs feed and further detract from the candidate experience

Smaller or under-resourced employers are unable to get their jobs ranked on Google

The alienation of many ATSs and RMPs who aren't able to optimize schema (due to lack of resources, understanding etc.) which puts them at a significant disadvantage and pushes them to other websites 
While these issues were at one time rampant, the platform has and continues to improve to both recognize and favor job posts that convey accurate information.
Get Google Schema Right With AI and Automation 
The latest innovations in recruitment technology are leveraging AI and machine learning to optimize and structure job postings, automatically, in a way that successfully integrates them with Google and optimizes their performance.
With dozens of key ranking signals optimized for recruiters, the technology adheres to all Google schema requirements and quickly accelerates qualified candidate flow. 
You won't have to worry about inputting the information yourself or risk wasting time by doing it incorrectly. The algorithms are even able to scan and implement targeted keywords, SEO optimizations, meta tags, market and industry signals, location, and information so that jobs are not only posted but highly ranked in Google search results. 
One of the best parts? This is all done in a matter of hours, not days or weeks. The benefits for employers are clear and impactful: 
More views, impressions, and clicks on job posts

More qualified candidates

Higher applicant conversion rates

Simplified direct apply features

A lower cost and time to hire 
That's right – with automation, uncomplicating Google for Jobs schema suddenly becomes a whole lot easier and more effective.
4x YOUR QUALIFIED APPLICANTS FROM GOOGLE WITH AI 
Getting Google for Jobs right can quickly become a full-time job. Let AI and automation check all the boxes for you.