It's hard to believe that at the beginning of 2020, the job market was the strongest it had been in years. Unemployment was at a 50-year low of 3.5 percent with a record 113-month streak of job creation and economic growth. 
COVID-19 stopped this growth in its tracks. With many businesses & industries forced to shut down or pause their operations, millions of people have been laid off, furloughed, or unable to find work. 
However, as you might imagine, some industries are more affected than others. While entertainment, hospitality, and tourism are largely struggling and laying off people by the thousands, some verticals are experiencing unprecedented growth in hiring. Organizations like hospitals and clinics, for example, are in desperate need of more workers — healthcare recruiting is surging. 
This is supported by virtually all data sources out there, not the least of which is Google for Jobs; in mid-April, two of the three most popular job posting titles on the platform were for physicians and nurses. 
The effects of COVID-19 are pushing hospitals, nursing homes and other medical facilities to their fullest capacity — literally. Makeshift hospitals have been set up in conference centers and public parks, while vacant college dorms are being used to house healthcare workers. Nurses and doctors who contract COVID-19 are being asked to return to work as soon as possible. More healthcare workers are needed — now — to help fight the virus.
Are your healthcare recruiting efforts up to the challenge?
How Healthcare Jobs Have Been Affected
The vast majority of industries are, unsurprisingly, taking a hit from COVID-19. This is exemplified by looking at the number of overall job postings and availability, which have plummeted since the virus' onset.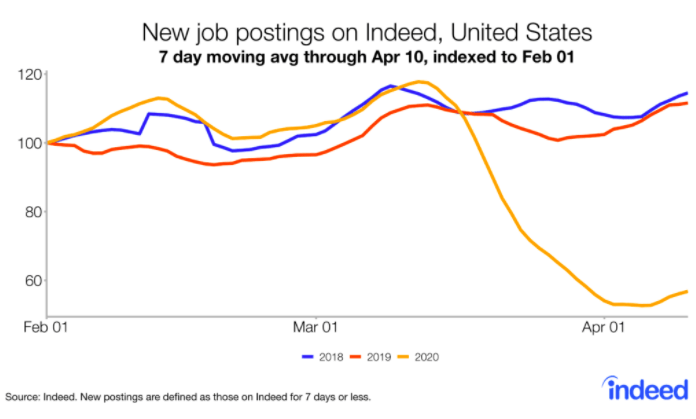 According to data from Indeed, new job postings are down 49.1 percent compared to last year. 
But there's been a hiring spree of nurses and others in the medical field. Google for Jobs data shows that The Gypsy Nurse, a travel nursing website, had the fifth most open job postings of all employers nationwide in mid-March. A month later, it had dropped just to number seven — still above the likes of conglomerates such as Wells Fargo and UPS.
Healthcare recruiting is understandably very competitive as HR teams struggle to fill these essential positions. As a result, more supply— and better recruiting efforts — is needed to meet this fierce demand.
Matching the right people for specific positions isn't the only challenge, though. Geography plays a huge role in filling vacant positions, as all areas are affected much differently from one another. 
Jobs Based on Location
A sample of open jobs reflects the need for medical personnel in various locations, particularly in big cities where some "hidden outbreaks" spread early on.
In New York Google for Jobs results, physicians jumped from outside the top 10 most popular job titles in mid-March up to number four a month later. In Boston, registered nurses broke into the top 10. In Chicago, RNs were the 11th most popular job title, after not being in the top 20 a month before.
Tracking job opening data can be tricky because of so many spam and duplicate job openings and old posts that may not get pulled down, but qualitative data confirms the spike of medical hiring in a few of the nation's COVID-19 hotspots.
The head of one NYC medical staffing company has been trying to fill over 3,000 nursing slots as new hires flood in from all across the country. Massachusetts has taken to permitting nursing school students in their final semester to work on site, so long as they work under direct supervision. San Francisco changed its hiring protocols for hiring nurses to cut the time from over six months to a few weeks. 
Retired doctors are coming back to the front lines nationwide. 
Job Type
Not all healthcare jobs are created equally during this surge. Some positions in healthcare unrelated to COVID-19 are beginning to see furloughs and layoffs. 
According to Google for Jobs data, registered nurses and physicians are topping the list of most in-demand healthcare workers — which isn't entirely surprising. A Georgetown study predicted a 200,000 shortfall in RNs as demand to treat America's aging population was increasing before the onset of COVID-19.
In mid-April, registered nurses topped the list of most job postings in the healthcare industry in Boston and Chicago. In New York, physicians were the number one role being recruited, while in San Francisco, nurse managers topped the list.
Meanwhile, nationwide, physicians and RNs were the second and third most popular job posting titles, respectively.
Most Popular Healthcare Jobs Open, April 15

New York

Boston

Chicago

San Francisco

Physician

Registered nurse

Registered nurse

Nurse manager
Another key hiring factor is how "temporary" jobs have increased in popularity. Aya Healthcare, a healthcare job staffing firm, noted that they had a 17 percent increase in their listings for temporary healthcare workers. New York City recently announced the hiring of 500 non-clinical positions for at least 90-days.
Candidate searches are reflective of this. Over 70 percent of people begin their search on Google, and job searches for "temporary" work have aligned with the spread of COVID-19.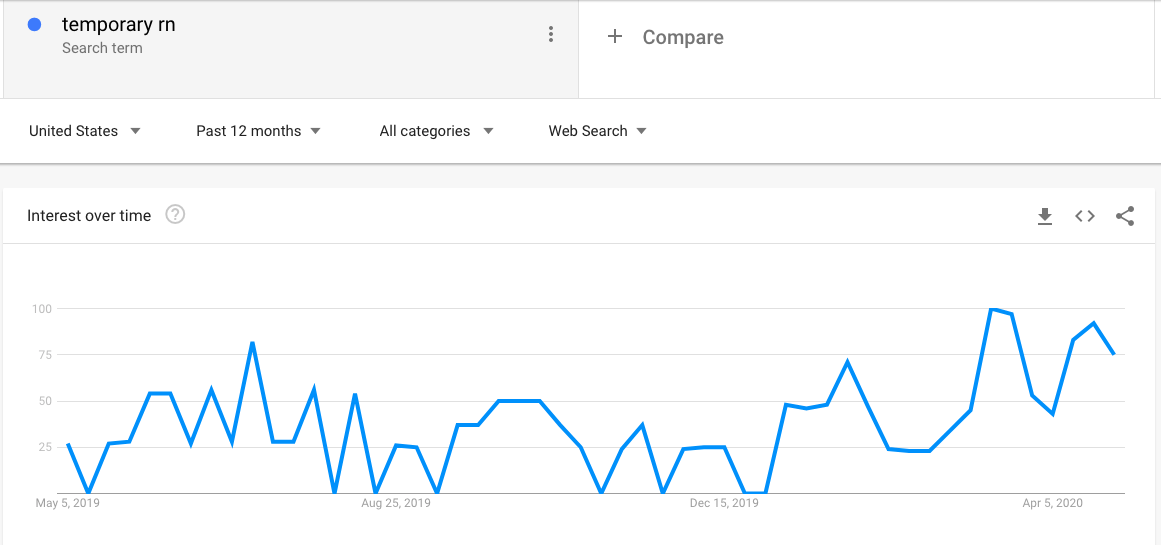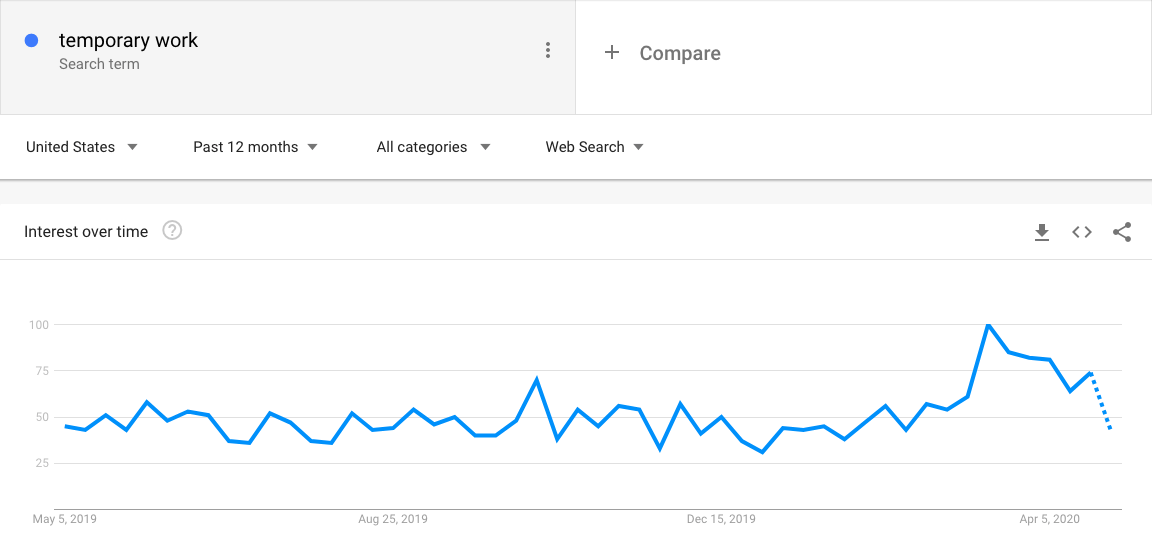 Google Trends indicates large spikes in searches for "temporary work" and "temporary RN" by job seekers over the course of March and into April. As such, it's important to include those relevant terms in postings (if relevant to that posting, of course).
How Jobiak Can Help Healthcare Recruiting
With so many candidates starting their job searches on Google, Google for Jobs is indisputably the most prized tool that healthcare recruiters can use today. Not to mention, it's free to use! What's tricky is using GFJ as efficiently as possible to reap the rich rewards. Most applicant tracking systems and recruitment marketing platforms that employers use don't leverage the power of Google for Jobs.
So what does that mean for people looking to fill healthcare positions fast — and now?
Recruiters will want to ensure that they're cooperating with many of the complex job posting guidelines that Google requires to be seen in its Google for Jobs feature. This includes a broad range of structured data elements that align with how job posts are created online. As one can imagine, this is a time-consuming process — for every job post.
Jobiak's recruitment technology is the industry's one and only tool that optimizes job postings and landing pages so candidates can find them as easily as possible on Google for Jobs. And in a moment when time is truly of the essence, Jobiak is offering its services free of charge right now to those who are hiring at hospitals and nursing homes to fill their positions as soon as possible.
Our technology works to create a process that is candidate-focused, which shortens the application process, making it as simple and efficient as possible to find qualified candidates. In a time when hiring very truly needs to happen fast, Jobiak is one tool that can help make the process faster from beginning to end so healthcare professionals can get to work faster.
Learn more about Jobiak's COVID Relief Program.